Five Unique Barbecue Experiences in Atlanta
One of the meanest things that has ever happened in the last forty years of people writing about regional food was somebody, somewhere, up and decided that Atlanta, Georgia was not a barbecue city. Since then, scores of misinformed food writers have made the poor decision to give the Peach State short shrift and focus on barbecue in other places. Make no mistake, I bow to nobody in my admiration of the awesome barbecue traditions of Texas, Memphis, North Carolina, and all points in between. But this nonsense that Atlanta's not a barbecue town, that Georgia's not a barbecue state, has gone on long enough.
Atlanta is more than just a cultural melting pot, where the barbecue traditions of every other region come to life. It's a vibrant and wonderfully diverse city where new traditions carve out their own niche. If you've got a weekend, come to the ATL and try these five places for five very, very different takes on wonderful barbecue.
1. Big Shanty Smokehouse
Chic Dillard had been working as a consultant in the restaurant biz for something like thirty years before opening his own place about two miles west of I-75 in this northern suburb in 2007. Since then, he's received awards and acclaim for some of the best pork in town, offering "inside pulled" or "outside chopped" meat that smokes over hickory for twelve hours overnight. So richly seasoned that the meat is a dark red and brown, it genuinely doesn't need a drop of sauce, although a pretty good tomato-vinegar blend is available on the side, along with some killer potato salad and heavenly banana pudding.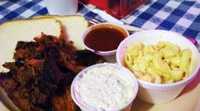 3393 Cherokee St NW
Kennesaw, GA 30144
(770) 499-7444
2. Heirloom Market Bar-B-Que
If you'll pardon me mixing my metaphors, Cody Taylor and Jiyeon Lee have been the new 800-pound gorillas on the block in Atlanta since they opened Heirloom Market in the too-small space next to a convenience store in 2010. They've been waging war with county officials for having too many cars parked up and down the roads ever since. Those who brave the very long lines for takeout here – in an uncomfortable compromise, they have been limiting dine-in customers for several months – will find some amazing pulled pork given a sparkling, Korean flair, with novel, constantly changing sides like their kimchi cole slaw, several great sauces, and arguably the best beef brisket in town.
2243 Akers Mill Rd
Atlanta, GA 30339
(770) 850-1008
3. Hudson's Hickory House
Buford Hudson opened this popular family restaurant in 1971, and created a style only found in the city's western suburbs. His hickory-smoked chopped pork is served completely drowned in a thin, blood-red vinegar / Worcestershire / pepper sauce that nobody anywhere outside of this region replicates. Hudson-style sauce can be found at nine or ten other restaurants in the area, like Wallace in Austell, Johnny's in Powder Springs, and J & W near Carrollton, all of whom accompany it with a bottle of magma-hot mustard and cayenne. Absolutely unique and utterly unforgettable.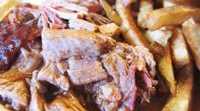 6874 Bankhead Hwy
Douglasville, GA 30134
(770) 942-4828
4. Miss Betty's House of Ribs
Betty Patterson set up shop in this old trailer in 2006. Various family members tend to the pit in a screened building out back, and inside, she's greeting old friends and new with the sweetest charm of the south, and one of the most curious sauces. Arguments have been started over the ingredients in the Boss Sauce: is it soy sauce and Caro syrup? Honey with Worcestershire? Whichever, a thin drizzle over these thick, peppery ribs is a fabulous treat. The ribs, incidentally, never taste quite the same, owing to differences in wood and preparation time, but they always taste perfectly fresh. Sometimes, you'll have to wait a few minutes while the smoke is making your ribs just right.
1281 Bouldercrest Dr
Atlanta, GA 30316
(404) 243-8484
nbsp;
5. Wyatt's Country Bar-B-Que
The intown neighborhood of Kirkwood is home to a ramshackle green and yellow building so garish that it looks like the Bugaloos have fallen on hard times. You'll thread your way through a very narrow corridor to place an order to go, and possibly carry it to an adjacent screened porch to kick back and consider what you've selected. Pig's ears and oxtails are popular here among the older customers. The chopped pork is smoked and then steamed, and you'll definitely want to order it with the sauce on the side. It's never technically dry, as it's been marinating in its own gravy, with a texture similar to pot roast. The Kansas City-style sauce is a very good accompaniment, and, in a really neat magic trick, changes the flavor of the meat completely. I like to alternate tastes, one bite with sauce and one without. They taste not a darn thing alike, but boy, do they taste good.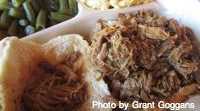 Wyatt's Country Bar-B-Que
1674 Memorial Dr SE
Atlanta, GA 30317
(404) 371-0311
That claim can be made about Atlanta barbecue in general rather than one single, fun, restaurant. With so many restaurants here that are so radically different from each other, I'd argue that one reason we're overlooked is that we represent too great a challenge. There is no flavor that can honestly be called "Atlanta barbecue." We're too broad, too wild, and too tasty to be shoved under a single umbrella. Don't overlook us on your way to more storied temples of smoked meat. Pull up a chair and stay a while.
What's your favorite barbecue joint?
Grant Goggans has co-written, edited, and taken woeful photographs for the blog Marie, Let's Eat! since February 2010. When he is not eating barbecue, he is eating something else.