My Top 5 Places to Eat before a Cubs Game at Wrigley Field in Chicago
Every year when spring rolls around Chicagoans have three very specific things that they look forward to: the end of snow, the warming up of frigid temperatures, and opening day at Wrigley Field.
The Cubs are like a religion here in Chicago with thousands of devoted fans flocking to Wrigley Field and the surrounding area all spring and summer long to cheer them on. Win or lose, you won't find a fan more loyal than one that roots for the Cubs.
And whether you've got tickets to the game or you're just looking for a great place to catch it on TV, there is nothing like Wrigleyville.
The neighborhood is made up of tons of sports bars and pubs and each one is packed full of fans on game day. As you might expect, a lot of these places are the typical old fashioned, no frills, leaning toward the dive-y end of the spectrum bars that you'll find in stadium-centric neighborhoods across America.
They are a ton of fun, of course, but the food selection can be dicey, if they serve food at all. I love a good dive bar (especially pre- or post-Cubs game!), but I love my food more and there are a few real gems in this neighborhood-- places where you (or a foodie like me) can still cheer on the Cubs, drink a good beer, and enjoy some really good food.
These are 5 of my favorite places to eat in Wrigleyville:
1. Lucky's Sandwich Co
This is one of my favorite places for good food in Wrigleyville. Lucky's is home to crazy big overstuffed sandwiches that are essentially an entire meal between two slices of bread.
These sandwiches are loaded up with your standard ingredients like sliced deli meats and tomatoes and are topped with a generous helping of tangy coleslaw and a heaping portion of hand-cut fries inside two thick slices of French bread.
These sandwiches have become a local legend in the short 10+ years that they've been around and have been featured on shows like Man vs. Food and Sandwich King.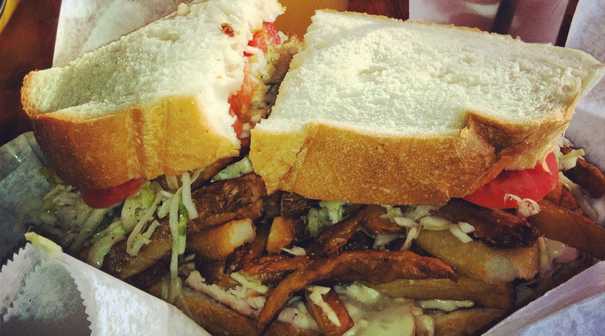 They are virtually impossible to eat with your hands and not make a complete mess, but they are really tasty and Lucky's has a ton of different options available: from standard turkey or ham to veggie, Buffalo chicken, and fried fish sandwiches.
The sandwiches aren't fancy, but they're made with quality ingredients so they're just really fresh tasting and delicious.
And as a coleslaw snob, I can assure you that this is good stuff-- and probably my favorite part of the sandwich! In addition to their vast sandwich menu, Lucky's also serves a great selection of craft and imported beers.
These can be hard to come by at most Wrigleyville bars! So, stop into Lucky's with an empty stomach and enjoy an overstuffed sandwich and a beer before the game-- or anytime!
$
3472 North Clark St., Chicago, IL 60657
(773) 549-0665
http://www.luckysandwich.com/
2. Sheffield's Beer & Wine Garden
Sheffield's is located just a little off the beaten path of Wrigleyville (a.k.a. the few blocks of Clark Street immediately south of Wrigley Field), but it's a great option for sports fans, foodies, and beer lovers alike.
This is a big bar with several different rooms for drinking and game watching and as the name might suggest, there's also a great beer garden that is the perfect place for enjoying some drinks al fresco in the summertime.
Sheffield's serves around 200 different varieties of beer, so there is truly something for everyone on the menu here and it is the ideal bar for the beer enthusiast.
And for those foodies, I can vouch that Sheffield's serves up some great food too.
They are known for their barbecue and they actually smoke all of their meat in-house, so it's the real deal.
I'm a huge fan of the smothered nachos at Sheffield's-- a perfect marriage of my favorite bar food and their signature ingredients. The nachos are piled high with your standard topping in addition to an awesome IPA queso sauce, cumin crema, tomatillo & avocado relish, BBQ sauce, and your choice of their housemade pulled chicken or pork, chopped brisket, or veggie chili.
The Armadillo Eggs are another standout menu item: pickled jalapenos filled with chopped brisket, pepper jack cheese, and BBQ sauce, deep fried and served with BBQ ranch sauce for dipping.
Healthy? No. Delicious? Yes.
$$
3258 N Sheffield Ave, Chicago, IL 60657
(773) 281-4989
3. Flaco's Tacos
Flaco's is one of my favorite local spots for fast casual Mexican food and I was so excited to find out that they have opened a third location in Wrigleyville.
There are tons of places all over Chicago (and Wrigleyville) to grab a quick taco or burrito, but I think we can agree that they aren't always very good.
Flaco's prides itself on serving homemade Mexican food with fresh ingredients in a quick and casual environment.
This is a great place to grab a quick meal that is really tasty, quick, and cost effective.
They have excellent fresh guacamole here and I love their nachos, tacos, and especially their tortas: Mexican-style sandwiches served on soft fresh baked rolls.
And my husband orders a burrito every time we stop into Flaco's. This isn't a place where you'll pull up a chair at the bar and watch the whole game, but it's a great place to get a quick and satisfying meal en route to your game watching. Rest assured though, they do serve alcohol.
Flaco's Tacos serves a variety of flavored margaritas, housemade sangria, and a selection of Mexican beers too.
$
3530 North Clark Street, Chicago, IL 60657
(773) 975-8226
4. Rockit Burger Bar
If you're looking for the full Wrigleyville bar experience, but with really good food, then Rockit is the spot for you.
This bar and grill is located just across the street from Wrigley Field and is the sister location to the very successful Rockit Bar & Grill located in Chicago's trendier River North neighborhood. Wrigleyville's Rockit specializes in all things 'burger'.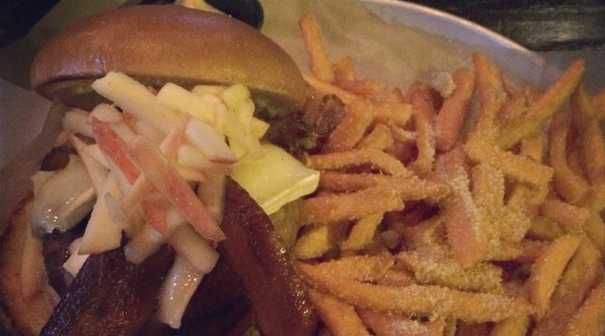 Rockit Burger Bar serves up over a dozen different gourmet burgers-- each with their own flavor profile and personality.
I like the sweet and savory Johnny Apple, a burger topped with smokey bacon, brie, Gala apples, pecan aioli, and served with a side of cinnamon and sugar spiced sweet potato fries. My husband, on the other hand, enjoys the rich and spicy Huevos Ranchero which includes a fried egg, chihuahua cheese, corn tortilla strips, roasted salsa, and jalapeño aioli.
The atmosphere at Rockit is a great mix of casual restaurant (serving delicious burgers and bar food) and energetic bar with loud music, TVs playing every game that's available, and a DJ later in the evenings.
It's a great place to visit during a Cubs game and the off season alike.
$$
3700 North Clark Street, Chicago, IL 60613
(773) 645-4400
http://www.rockitburgerbar.com
5. Blokes & Birds
Blokes & Birds is another rare Wrigleyville find. It's got a modern sports bar meets old fashioned English public house vibe, which is not unique in Chicago but definitely unique for the neighborhood.
The place is covered in sleek smooth wood with some big lounge areas in the basement (which is more lounge versus the upstairs, which is more restaurant) punctuated with their signature quirky handlebar mustache throughout the decor.
The food here is great. It's a little more upscale than your usual Wrigleyville bar, but it's still casual and comforting like you'd expect at a traditional pub.
Their fish and chips are really delicious : deep fried and crunchy served with a tangy tartar sauce for dipping. And the bacon mac and cheese is creamy and decadent -- perfect for sharing with your table or to just enjoy as your entree. I am also a huge fan of their beet salad, which is served with arugula and goat cheese, dressed in a very British Pimm's vinaigrette dressing.
The food here is satisfying enough for you to enjoy after a day of drinking and cheering on the Cubbies, and the place itself is cool enough to be the perfect location for an evening celebration or get together too.
$$
3343 North Clark Street, Chicago, IL 60657
(773) 472-5252
http://www.blokesandbirdschicago.com/
What's your favorite restaurant for a pre- or post-game meal?