Podcast Episode 1: Sweet Cheeks Q in Boston
In our first episode of the Find Dining podcast
, Bianca Garcia of Confessions of a Chocoholic
offers up a great restaurant recommendation: Sweet Cheeks Q
in Boston, where Chef Tiffani Faison (of Top Chef fame
) serves up barbeqcue dishes like pork belly and beef short rib.
1. Sweet Cheeks Q is located at 1381 Boylston Street in Boston Bianca recommends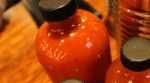 Sweet's Sauces
Bucket o' Biscuits

Berkshire Pork Belly

Butterscotch Pudding Out of the Frying Pan Picks:

Visits Most Often: Russell House Tavern

Favorite Outdoor Dining: Deep Ellum

Most Romantic Restaurant: Sorellina

Favorite Sandwich Shop: Darwin's Ltd Also available on iTunes.