Podcast Episode 52: Lokanta Maya in Istanbul
Subscribe or leave a review in iTunes.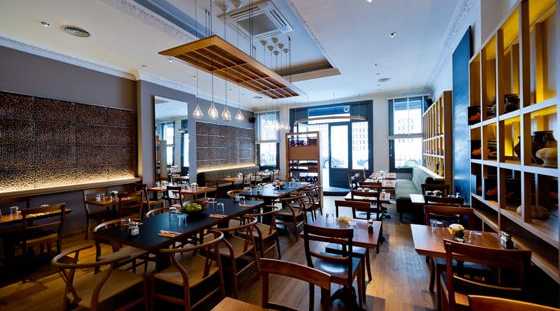 Screen Shot 2013-07-16 at 11.43.19
In this episode of the Find Dining Podcast, Aysegul Kesimoglu of King's College London recommends Lokanta Maya in Istanbul, where Chef Didem Senol serves up contemporary Turkish dishes like whiting fish, caramalized sea bass, and long roasted lamb.
Read more about Lokanta Maya on King's College London

Visit the Lokanta Maya website

Lokanta Maya is located at Kemankeş Cad. 35 A Karaköy in İstanbul
Aysegul recommends:
Courgette fritters

Salted bonito fish

Chicken pate with pear marmalade

Seed and herb salad with pomegranate

Whiting fish of the cod fish family with almonds and potato salad

Caramalized sea bass which she sometimes cooks with orange and at other times with fig

Long roasted lamb with white bean puree

Mastic pudding with cherry sauce
The Şisli - Nişantaşı Area:
Organic food market near Feriköy in the Şişli district (on Saturdays, and in different neighborhoods on other days)

Both Şisli and in certain parts of Nişantaşı there are artisinal restaurants like Hamov, which specializes in Armenian Cuisine, a must-try dish is "topik" (made mainly from chickpeas and currant; usually also has onion, pimento, cumin and some other spices)

Nişantaşı is more trendy filled with places for people watching. But, there are some speciality stores to buy special and local products, like Güven Kuruyemiş for nuts and dried fruits

Check out Konak Patisscerie for baked goods and dessert

Go to Kürşat for olive oils and olives; an artisanal boutique that brings products directly from Ayvalik / Coastal city in the Agean Region.

Kantin by Şemza Denizsel is a Ottolenghi London style cafe and store. Great spot for lunch.

Visit Tatbak and Hunkar
Kadikoy, a Ferry port and commercial hub:
Ciya Restaurant : The food is eclectic, mostly influenced by the east of Turkey but you will get a taste of Mesopotamia, Ottoman and Balkan cuisine here. There are three Restaurants by the same owner chef (Musa Dağdeviren) in this district. Two of them are across from each other. Çiya Kebab specializes in kebab dishes. Çiya Sofrası specializes in regional dishes.

Visit the open market of grocers and charcuterie

And don't forget the fisheries!
Besiktaş, another a commercial hub and a port:
Try a very good meatball restaurant, such as Şöhret

Kafadaroğlu Börekçisi: Speciality of this place is the "börek" (salted pastry that is filled with different ingredients depending on preference and taste). Their Turkish dessert selection is also very good. Worth trying: "Tel kadayıfı" - which is also known as kadaif and it's made from shredded yufka / filled with walnuts or pistachio. Also try the baklawa and "şöbiyet" (similar to baklawa).

Go to Naci for ciger (liver)

Visit the fish market
Eminönü:
This is a well known area among tourists because of the Spice Market

Got to Kurukahveci Mehmet Efendi for the Turkish coffee

Visit the Open Market behind the Spice Market

Pandeli is an important restaurant founded in 1901, specializing in Turkish cuisine. Many famous people have eaten here,including Queen Elizabeth, Robert DeNiro, Audrey Hepburn, Tony Curtis, and Roman Polansky.
Turkish Foods:
Olive Oil: Go to Kürşat for olive oils and olives; it's an artisanal boutique that brings products directly from Ayvalik, a coastal city in the Agean Region.

Pomegranate Sour

Lor Cheese: Go to Bandirma Ciftligi (Farm Shop) for Lor Cheese (ricotta like Turkish cheese)

Try this Turkish cheese shop: Peynirci Mehmet in Çengelköy

Visit delis for local and regional specialities, like Merkez Şarküteri in Levent, which was founded in 1966. There, you should try Ezine cheese, Gemlik olives, Kayseri pastırması (cured meat), Trakya eski kaşarı (cheese) and buffalo cream. You'll also find village eggs, thin flat bread and Turkish sashimi (lakerda).

For nuts and dried fruits, as well as spices, go to Kardesler Kuruyemis in Levent

Namli Gurme

Mezes (Small Tapas) can be eaten at a fish or kebab restaurant, or at a meyhane (tavern). Example of mezes include Gavurdagi salad (a spicy salad made from tomatoes minced really small with onions walnuts sumac and other spices and herbs topped with pomegranate sour), or pacanga borek (which is salted pastry with pastirma, a cured beef typical of Turkey, or muhlama (corn meal cooked in butter, then made to a pudding like consistency by the addition of water and lots of melting cheese), and topik (made mainly from chickpeas and currant; usually also has onion, pimento, cumin and some other spices)

Begendi / Aubergine Puree: Not to be bought, but to be ordered when at a restaurant
Chefs:
The spokesperson for the organic food movement is Defne Koryurek (also here )

Semza Denizsel is known as the Alice Waters of Turkey and was a pioneer of the farm-to-table approach

Ex-La Mouette chefs Cihan Kipcak and Uryan Dogmus are also quite exemplary with their innovative and creative approaches to cooking

Mehmet Gurs owns the Mikla Restaurant

Refika

Civan Er owns Yeni Lokanta / New Canteen is an innovative creative chef who likes to play around with ingredients.

Sina Sucuka - upcoming on training
Food for Thought:
Q: What is the nickname of the popular restaurant in Istanbul that was the meeting place for hippies and other travelers on the so-called 'hippie trail' -- the overland route between Europe and India, Nepal, and elsewhere in Asia -- in the 1960s?

A: The Pudding Shop.
Out of the Frying Pan Picks:
Restaurant with the Best View: 360 and Sunset Grill & Bar

Favorite Spot for Dessert: Mangerie Bebek (get the brownies)

Favorite Place to Buy Cheese: Bandirma Ciftligi and Merkez Şarküteri

Favorite Place to Go for Breakfast: Mangerie Bebek (enjoy the view)

Most Romantic Place to Go: Maiden's Tower