Five Unique Barbecue Experiences in Charlotte, North Carolina
"Charlotte is not really in either part of North Carolina, it's a city of newcomers and we have other people's barbecue." - Tom Hanchett, historian at Charlotte's Levine Museum of the New South.
Sure, North Carolina is a pork state but Charlotte has never really been known for barbecue. What joints it does have don't even conform to the typical east/west divide. Despite technically being located geographically in the piedmont, as far as I can tell Charlotte has more eastern style barbecue joints than western (also known as piedmont or Lexington-style) by approximately a 5:1 ratio. Charlotte also has happens to have a lot of other types of barbecue. Partially inspired by the guest post by our friends at Marie, Let's Eat!, here are five unique barbecue experiences in Charlotte that aren't the typical North Carolina barbecue experience.
1. Bar-B-Q King - Drive-through barbecue
Outside of a Sonic, you don't see too many drive-in's these days. I'm talking about crackly, hard-to-hear speakers from the 50's, car hops, crazy metal awnings, the whole deal. Which is a shame, because having not grown up in a generation where these were commonplace, I find them kind of fun. Bar-B-Q King has been on Wilkinson Blvd since 1959 doing their thing, which is barbecue that isn't exactly eastern nor Lexington style but instead has a thicker sauce on top of moist but unseasoned pork. Check it out before drive-ins possibly become extinct in the near future.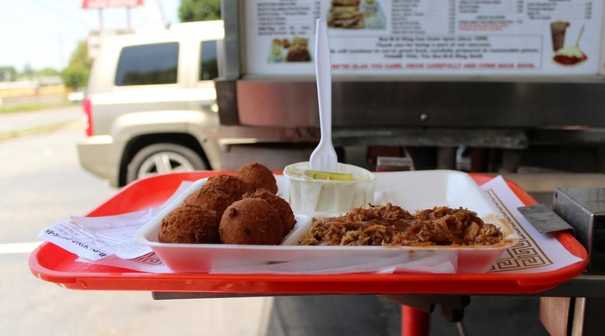 Bar-B-Q King - Drive-through barbecue
2900 Wilkinson Blvd, Charlotte, NC
(704) 399-8344
2. Boone's Bar-B-Que Kitchen - Food truck barbecue
On any given Friday night in the South End neighborhood, you will find a large crowd and a dusty lot full of food trucks collectively known as Food Truck Friday. And if you're lucky, Boone's Bar-B-Que Kitchen will be one of those food trucks, serving Dan "Boone" Gibson's family recipes for pulled pork, brisket, sausage, as well as scratch-made sides (usually bearing the name of a family member). Gibson is a veteran of the Charlotte barbecue scene (having had a hand in starting both Mac's Speed Shop and Queen City Q) but he's really put it all together in the first barbecue foray to bear his name, smoking arguably Charlotte's best barbecue.
Boone's Bar-B-Que Kitchen - Food truck barbecue
(980) 209-0578
http://boonesbarbque.com/index.html
3. Midwood Smokehouse - Central Texas barbecue
If for some reason you feel tempted by the dark side to forsake pork in favor of brisket (for one meal at least), Midwood Smokehouse has you covered. Restaurateur Frank Scibelli has made numerous trips to Texas to research brisket and came back with a custom pit that smokes meat over wood 24 hours a day. He has even gone great lengths to hide the manufacturer, removing any labeling or marking (though I'm pretty sure it's an Oyler pit manufactured in Mesquite, Texas). In any case, whatever the pit may be, it produces some pretty authentic central Texas brisket that just so happens to be the best in town.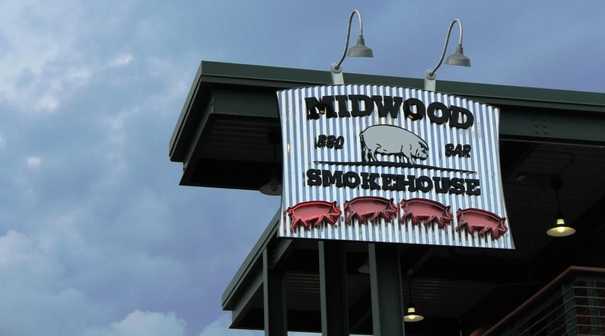 Midwood Smokehouse - Central Texas barbecue
1401 Central Avenue, Charlotte, NC
4. Mac's Speed Shop - Brontosaurus rib barbecue
Speaking of beef barbecue, if you want a brontosaurus rib and don't mind a little exhaust from Harley Davidsons every so often then Mac's Speed Shop on South Boulevard is the place for you. Mac's just so happens to be the only spot in town to serve a Kansas City style beef rib, a one pound-plus hunk of beef on the bone smoked for six hours and then finished on the grill. Be sure you bring an appetite because that thing is huge. And if you want an adult beverage, they have that too since Mac's was one of the first barbecue joints in Charlotte to have an extensive beer menu - in fact, somewhere in the neighborhood of 180 available on draft, bottle, or can.
2511 South Blvd., Charlotte, NC
(704) 522-6227
5. Old Hickory House - Georgia and Alabama barbecue
At Old Hickory House BBQ, the Carter family has created barbecue since 1956 that has roots in Georgia and Alabama. Here you will find well-smoked pork cooked over hickory coals topped with a tangy, citrusy barbecue sauce that has a vinegar tang but is most definitely not eastern or Lexington style. The brunswick stew and slaw aren't native to North Carolina either, and they serve you Texas toast with each plate. So yeah, definitely not the usual NC barbecue experience. But worth your time if you find yourself between uptown and University City with a hankerin' for 'cue.
6538 N Tryon St., Charlotte, NC
http://www.yelp.com/biz/old-hickory-house-restaurant-charlotte
6. About the Barbecue Bros
The Barbecue Bros are three bros originally from High Point, North Carolina on a mission to experience barbecue in all forms at any joint they can find. Speedy and Monk currently reside in Charlotte, North Carolina while Rudy lives in Austin, Texas. At all barbecue joints in between they'll eat it, they'll rate it, and they'll rank it all for the common good.