Podcast Episode 77: Top Chef's Shirley Chung
Subscribe or leave a review in iTunes.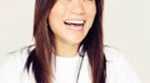 Chef Shirley Chung
In this episode of the Find Dining Podcast, Top Chef finalist, Shirley Chung tells us about finding her culinary voice in New Orleans and what she's been up to since the show. We discuss growing up in China, how she went from a Silicon Valley cubicle to cooking for Top Chef masters and her culinary explorations across Asia.
Shirley is the former executive chef of China Poblano in Las Vegas

Shirley grew up in Beijing and started cooking and "helping" her grandparents on their farm at an early age. After moving to California, she studied business administration and worked in semiconductors before becoming a chef.

Follow in Shirley's foodsteps by studying at the California Culinary Academy (now Le Cordon Bleu).

After culinary school, Shirley landed an externship at French Laundry, then was offered a position working the oyster bar at Bouchon.

The high concentration of high caliber chefs is bringing small scale farms to the Las Vegas valley.

When in New Orleans, be sure to check out Emeril's and Commander's Palace

Shirley describes her food style as cuisine with no borders. While in Korea, she learned the traditional process for kim chi and how to make tofu stew.

Stay tuned for Shirley's upcoming visits to Singapore, Malaysia, and Hong Kong

Look for small local agencies that do food tours around Asia. When planning her trip to Korea, Shirley consulted Zenkimchi
Food for Thought:
Q: In which area of Hawaii was spam masubi invented?

A: The Hilo region of the Big Island (Hawaii)
Out of the Frying Pan:
Where to eat in California wine country: Spoonbar in Healdsburg

Where to eat in Las Vegas: Ichiza

Where to eat in Hawaii: any restaurant by Sam Choy or Alan Wong

Biggest lesson from Top Chef: Stay calm

Best behind the scenes Top Chef trivia: Tom Colicchio is really funny

What's next: consulting projects and culinary travel in preparation for building her own brand over the next 5-10 years