Podcast Episode 86: Chef José Duarte of Taranta on the Food in Peru
In this episode of the Find Dining podcast, Chef Jose Duarte, owner of Taranta in Boston talks to us about the food of Peru. We discuss ceviche, making his restaurant eco-friendly, and getting kids to eat bugs in the Amazon.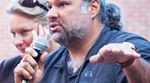 Chef Jose Duarte
Chef Jose Duarte was awarded Boston's "Green Business Award" in 2008, the 2010 MassRecycle Award, and 2011 "Chef of the Year" by the Massachusetts Restaurant Association

Listen to the panel discussion from the 2013 Food and Travel Expo

Before becoming a chef, Jose helped develop summer camp experiences for kids

Taranta is a member of the Green Restaurant Association

Watch the documentary Food Chains and find out how the Coalition of Immokalee Workers promotes fair employment practices in the food industry

Find out how Edible QR codes help consumers make smarter food decisions

Follow the Taranta Green blog

Join the Taranta team on a culinary adventure, like their recent Little Gourmet Adventure
Food for Thought
Q: What is the name of the skewered meat that is commonly sold in the streets of Peru?

A: Anticucho.
Out of the Frying Pan Picks:
First step in making a restaurant eco-friendly: Composting and recycling

Influential chefs: Javier Wong, who first taught him about ceviche

Dish to try on first trip to Taranta: yucca gnocchi with lamb ragu or Amazonian fish

Where will you go next on your next adventure: a wine trip to either Chile and Argentina or Spain and Italy