Top 5 Food to Eat in Sri Lanka
Sri Lanka is a country popular among travelers for its scenic beauty. Known as the pearl of Indian Ocean, Sri Lanka has a rich culture and a heritage passed down from generation to generation. It has a food culture unique for the country, and although the staple food is rice and curry, Sri Lankans are proud of their own signature dishes which range from a variety of side and desserts to drinks and sweets.
With the influence of Ayurveda medicine and Sri Lankan's own indigenous medicine, there are lot of herbal drinks and foods which are included in daily meals such as herbal gruel (Kola Kanda) and herbal teas. (Ex: Beli mal tea, Ranawara Tea). Sri Lankan food is mainly influenced by Indian, Portuguese, Dutch and English food; therefore, currently there are lots of dishes which belong to Sri Lanka with the roots from other countries. The famous Lamprais is an example which is mainly a food of Sri Lankan burghers. There are lots of signature dishes for each province of the country. The below mentioned dishes are easily found in any local restaurant or even as street food. Below are the top 5 foods which I selected with due care and with my taste buds.
1. Milk Rice (kiribath)
Even if you are not a rice lover, try a little bit of this dish. This is a signature dish for Sri Lanka which is common place in almost all ceremonial occasions. The rice is cooked with a thick creamy coconut milk and the taste is slightly creamy and reminiscent of milkfish. Traditionally, the cooked rice is pressed and cut into diamond shaped pieces. Usually this is served with a spicy lunu miris (chili paste) or mild spicy dish like seeni sambola. But still it tastes good with a Sri Lankan traditional sweet or a banana. Kiribath is good as breakfast. You can find this dish in most breakfast buffets in any restaurants. But, here is a suggestion: try milk rice (kiribath) with a Sri Lankan family in a homely environment and see how they cook it in a traditional Sri Lankan kitchen. It will be a memorable experience during your stay in Sri Lanka. You can find a local host from withlocals.com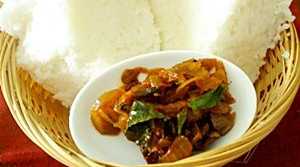 Milk rice from Sri Lanka
2. Curd & Treacle
This is a must try dessert during your stay in Sri Lanka. Curd (Mee kiri) is a traditional dessert prepared with buffalo milk and it goes well with palm treacle (kithul pani). Southern Sri Lanka is popular for the best curd, although this dish can be found anywhere in Sri Lanka. If you like natural yogurt,then I am sure you will also like this Sri Lankan finger licking dessert! To find out more about this traditional dessert, click here !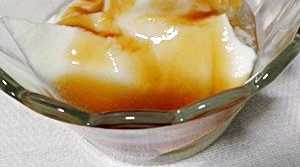 Curd & Treacle
3. Koththu Roti
Cooked in a curry sauce, you can find different varieties of koththu roti in Sri Lanka namely, chicken,vegetable or egg koththu. Koththu roti is a dish of cooked godamba roti strips (flat bread strips) with fried vegetables in a curry sauce. The dish has a good strong spice on the palate so be sure to ask for a less spicy version if you are so inclined. Koththu roti claims to have originated at Batticaloa, an eastern part of Sri Lanka, however nowadays you can find this in any high end restaurant or even as street food. If you want to find a restaurant to try this and to plan your trip before visiting Sri Lanka,then check tasty.lk for restaurant reviews. I am sure you'll find a great location to try some koththu roti with peace of mind.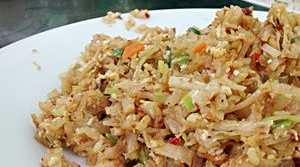 Koththu Roti
4. Short Eats
In Sri Lanka, you can find different snacks or as they are called "short eats". These bites are a bit spicy and stuffed with a mix of vegetables, fish or meat. They are great to taste with a cup of Ceylon tea and can be good as part of breakfast. There are different short eats for different tastes, for example, vegetable roti, fish bun, Chinese rolls, cutlets, and egg roti are just a few to mention. All you need to ask is "short eats" from the restaurant and you will receive a plate full of different snacks so you can try what you like. Don't worry, they will bill only for the quantity you eat! To find out more about the best dishes to try during your stay in Sri Lanka, click here.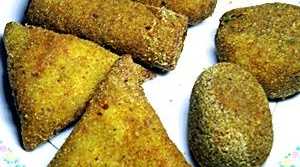 short eats
5. Appa (Hoppers)
Appa is a kind of pan cakes with a soft middle and a crispy outside. In Sri Lanka, you can try this for breakfast, dinner or even as an evening snack. Appa is made with a fermented rice flour & coconut batter and it is cooked in a special round pan. Though this is a popular dish in some other south Asian countries, you will see some differences in Sri Lankan version, for example, the Sri Lankan appa is served with a spicy chili paste. Order some 'egg hoppers'/Biththara appa to enjoy appa with a cracked cooked egg on the top. Try it and satisfy your taste buds! Also, check out 25 other Sri Lankan dishes you must try !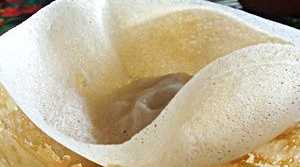 Appa
6. About Amila Wickramarachchi
Amila Wickramarachchi is a Sri Lankan who loves to share her recipes and travel experiences with the world. You can find her in ' Food Corner ' with some Sri Lankan recipes and travel notes.