The Top 5 Fried Chicken Dishes in Memphis
If you've never visited Memphis, you might think that everything we eat is slow smoked, smothered in a sweet and tangy sauce and topped with creamy coleslaw. Some people swear that you can literally smell barbecue in the air when you walk down the streets. Memphis combines the best of traditional Southern cuisine with cultural influences from all over the globe. The cornerstone entrée in every Southern cook's repertoire is fried chicken, and like everything else, Memphis does it just a little bit differently. For the best fried chicken in town, check out these Bluff City hot spots.
1. Gus's World Famous Fried Chicken
The fried chicken at Gus's is legendary. Regardless of whether you prefer white meat or dark, it's always juicy, and the crust has just enough heat to wake up your taste buds. In fact, the crust is so important; the exact ingredients are a secret, and only a few people know the recipe. The mix is made at the original Gus's in Mason, TN and shipped to the four Memphis area locations.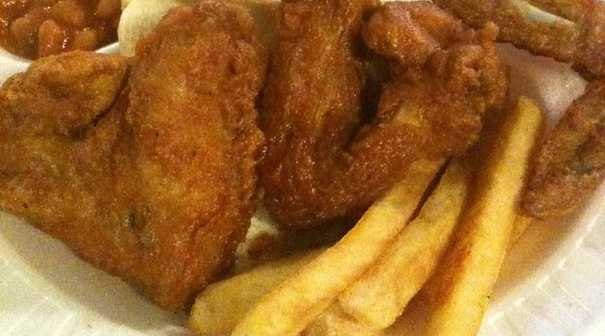 Gus's World Famous Fried Chicken
$
310 South Front Street, Memphis, TN
(901) 527-4877
http://gusfriedchicken.com
2. Uncle Lou's Southern Kitchen
"If the Colonel had Uncle Lou's recipe, he'd be the General." Uncle Lou serves his chicken "fried and dipped." Each piece is dredged in seasoned flour, fried to perfection and dipped in a savory honey glaze that he calls "sweet and spicy love." It will have you licking your fingers and craving more. This establishment has also been featured on Diners, Drive-Ins & Dives and The Best Thing I Ever Ate on the Food Network.
$
3633 Millbranch Road, Memphis, TN
(901) 332-2367
3. The Beauty Shop
This popular, eclectic eatery used to be the salon where Priscilla Presley maintained her fabulous coif, and the restaurant keeps some of that kitsch. The original hair dryer chairs make great seats, and the décor is deliciously retro. One of the most popular dishes is Chef Karen Carrier's unique take on picnic fare: watermelon and wings. She tosses crispy fried wings with white Szechwan pepper, sweet chile lime sauce, toasted cashews and chunks of juicy watermelon. These wings are zesty, sweet and a great addition to any meal.
$$$
966 South Cooper Street, Memphis, TN
(901) 272-7111
4. Miss Polly's Soul City Cafe
Right in the heart of the world famous Beale Street Entertainment District, Miss Polly's serves up the popular Southern staple, chicken and waffles, at all hours of the day. There's nothing better than delectable fried chicken, drizzled with real maple syrup, perched atop a golden, fluffy waffle. It's the breakfast (or lunch, or dinner) of champions. As Miss Polly says, "love, peace and chicken grease."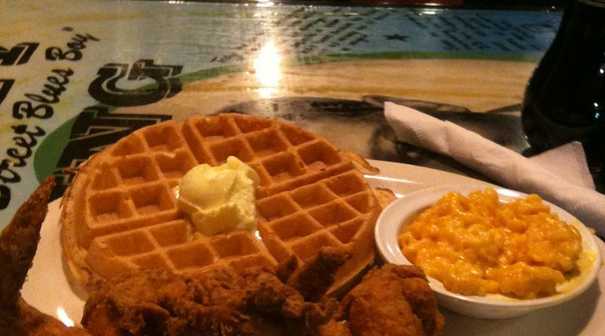 Miss Polly's Soul City Cafe
$
154 Beale Street, Memphis, TN
(901) 527-9060
http://misspollysmemphis.com
5. Lunchbox Eats
Speaking of chicken and waffles, the Homeroom Chicken and Grids from Lunchbox Eats takes all the best parts of that classic Southern staple and makes it portable. Imagine a juicy chicken breast topped with melted Muenster cheese and sandwiched between two buttery, cheddar waffles. The crowning touch is the housemade green tomato relish. It's hearty, filling and unique spin on the standard concept of chicken and waffles.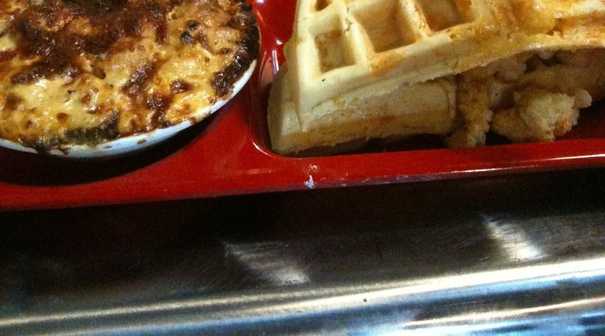 $$
288 South Fourth Street, Memphis, TN
(901) 526-0820
http://www.lunchboxeats.com/
What are your favorite side dishes to have with fried chicken?