The Top 5 Places that Beer Lovers in Atlanta Should Go on Date Night
Atlanta is rapidly becoming the craft beer capital of the south. From Sweetwater downtown to Red Hare in the suburbs, there is a brewery in almost every part of town. Lucky folks in some areas have more than one. Sure, you can go to a brewery and do a tasting and a tour (suggestion: bring some snacks and a lawn chair so you don't have to stand for two hours), but most of them are located in drab industrial warehouses that are a good place to start a date, but then what do you do?
Don't worry, the writers of Friday Date Night have some ideas. Here are the top five "beer dates" in Atlanta that include two of our favorite things: beer and food.
1. Der Biergarten and SkyView Atlanta
Der Biergarten was recently named one of the top 10 beer gardens in the United States by USA Today. Just one visit will tell you why. Walk up the stairs to the open patio and the long picnic tables. You may be a stranger to the people at the table next to you, but by the time you have a liter stein of Spaten Marzen, you will be the best of friends.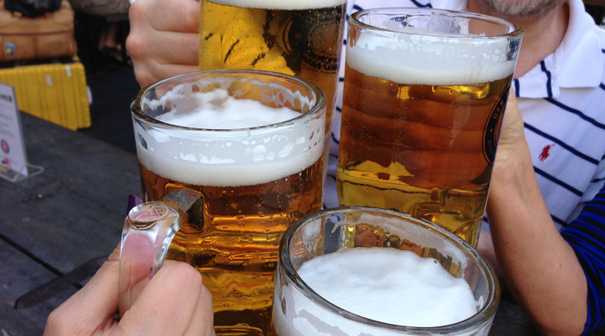 Der Biergarten and SkyView Atlanta
There are twenty beers on tap here, all of them German. You can't go wrong with anything on the beer list. While you are sampling the beer, get a Riesenbretzel or two. The giant pretzel comes with three kinds of mustard. And speaking of giant, don't miss the Schweinshaxe, the colossal rotisserie pork shank. Share it with a friend. We witnessed two guys trying to eat their own. They didn't succeed.
If you are with a big group, try the Konig Ludwig Platte. It's $96, but the pictures you will get are worth it. It's got schnitzels, sausages, and that huge pork shank. You will want to walk after this heavy dinner, so walk a few blocks to Centennial Olympic Park and buy a ticket for SkyView Atlanta.
In a short amount of time, this ferris wheel has become an Atlanta landmark. It's all about the view, and what a view it is. Tickets are $13.50. You can order them in advance online, or buy them onsite if you are worried about the weather. For $50, you can ride in the black VIP car with a glass floor and leather seats.
$$
300 Marietta Street, Atlanta, GA
(404) 521-2728
.
2. Six Feet Under and Oakland Cemetery
Outdoor dining in Atlanta is perfect for about four months a year. In the late spring and early fall, Atlantans flock to restaurants that have decks and patios. The best decks have the best view, and the deck at Six Feet Under overlooks the historic Oakland Cemetery.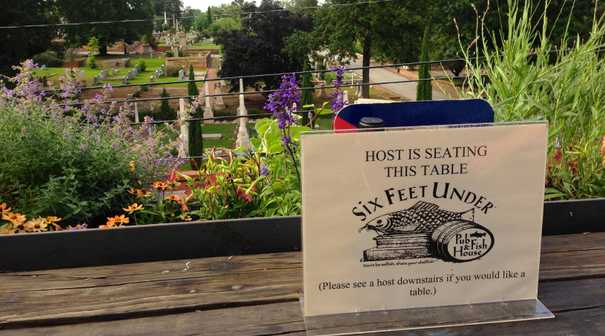 Six Feet Under and Oakland Cemetery
Before you walk upstairs to the deck, look around and notice the large collection of beer memorabilia throughout the restaurant. Once you get upstairs, order a local Atlanta beer, like the Eventide Kolsch that's made just a few blocks away. Or try the Wild Heaven Ode to Mercy that's brewed in Avondale Estates, just down the road. At 8.2% ABV, this brown ale is not for the meek.
Six Feet Under's specialty is seafood. Get it raw, fried or get it steamed. For a date, try the steamer sampler. For $43 you get oysters, shrimp, crab legs, mussels, sausage, corn and potatoes. It's a good way to get a taste of everything on the menu.
After dinner, cross the street to Oakland Cemetery, the burial place of Atlanta's rich and famous. "Gone With The Wind" author Margaret Mitchell is here. So is golfing legend Bobby Jones as well as 24 ex-mayors of the city. You can pick up a self-guided tour book at the visitor's center or you can take a guided tour. Stay with the beer theme and try the "Malts and Vaults" tour, where beer meets history. On this tour, you will visit the resting places of brewers and bartenders. Tickets are $10, but you get a $5 discount at Six Feet Under, which makes this tour quite the bargain.
$$
437 Memorial Drive, Atlanta, GA
(404) 523-6664
3. Three Taverns Brewery and The Decatur Square
Three Taverns is the only brewery in the south that brews Belgian-style beers. If you like your Belgians like we do, this is the place to visit in Decatur. For $12, you get six five-ounce pours, and you get to keep the glass. Try the Single Intent, a single that you can drink all day. Hop-heads will love the Night in Brussels IPA and White Hops, a white IPA with a grapefruit finish.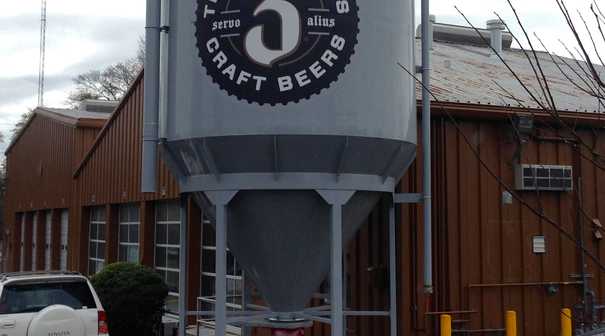 Three Taverns Brewery and The Decatur Square
The beers that really shine for us are the tripel and the quad, which are not always available. If you visit in the spring or summer, Quasimodo will be on tap, a big quad with 10% ABV. This beer will make you want to "slap your mama" as they say in the south. The tasting room has two levels and it's decorated in chic recycled wood. Bring a chair because seating is limited. Pack some snacks too as you don't want to drink all of this high-alcohol beer on an empty stomach.
It's a mile walk to the Decatur Square after Three Taverns closes. You don't want to drive as it's hard to find a place to park, and you just had all of that beer. For foodies, the square offers something for all tastes and wallets. Victory Sandwich Bar has amazing sandwiches. They are small. Order two. Try their signature Jack and Coke slushies. Check out Victory's "secret room", the Paper Plane. It's a little more upscale, and finding it is half the fun.
If you need more beer, go to The Brick Store, which is the best beer bar in the state of Georgia. The food is fabulous too. The chicken pot pie is a comfort food favorite. If you can, sit upstairs in the Belgian Bar, a special treat. Want dessert? Cakes and Ale has what you need. We loved our dinner here--the Vermont burrata could be the best appetizer ever, and paired with the trout for two, this is a great date restaurant. We are especially fond of the peanut butter and chocolate cake. Moist cake with peanut butter icing is like eating a peanut butter cup on your plate.
$$$
121 New Street, Decatur, GA
(404) 600-3355
4. Hop City and Antico Pizza
Pizza and beer is the best combination you can make on a date. How would you like to visit the best beer store in Atlanta and the best pizza place on the same night? Antico Pizza lets you bring your own beverages into the restaurant, and there is no better place to get those beverages than Hop City, about two miles away. At Hop City you will find 64 beers on tap. Fill up a growler and enjoy. Or walk down the aisles of bottled beer until you find something that interests you.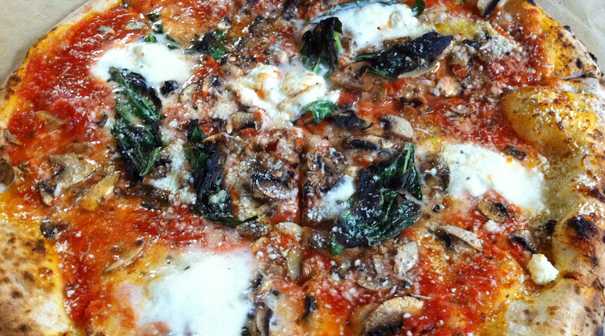 Hop City and Antico Pizza
It's a little intimidating for first-timers, but the staff is very knowledgeable and will set you up with exactly what you like. After buying the beer, drive on over to Antico. Go early or you will never get in. Antico is the brainchild of Giovanni Di Palma, who is often seen working in the restaurant. The pizzas at Antico are made in three wood-fired ovens that cook them at over 700 degrees. On one visit, our pizza made it out before we got to a table. There are nine pizzas on the menu and no substitutions, because as Di Palma explains, "they are perfect just the way they are." He will get no argument from us.
If Antico is too crowded, take your beer growler and go next door to Gio's Chicken Amalfitano. This is the best chicken in Atlanta that's not fried. Di Palma uses his family's recipes from Italy. The lemon chicken is the specialty. This chicken will become the chicken you compare all others to for the rest of your life. Wherever you wind up eating, leave room for gelato at Gio's Café, which is located behind the chicken restaurant. It's rich, and decadent, and a great way to end your date at Di Palma's "Little Italy".
$$
1000 Marietta Street, Atlanta, GA
(404) 350-9998
5. Monday Night Brewing and Bone Lick BBQ
We'll end our list at another brewery, Monday Night. This place was designed with the public in mind—there's plenty of parking, seating, and space in their tasting room. Start off with the Fu Manbrew, a Belgian-style wheat. You will smell the ginger that's in this beer before you taste it.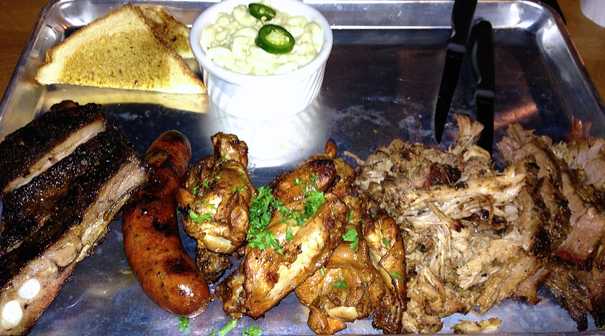 Monday Night Brewing and Bone Lick BBQ
Move to something hoppier with the Eye Patch Ale. It's a balanced IPA that does not blow you away with bitter hops. The Blind Pirate is their double IPA that's for adventurous beer drinkers. And at 8.2% ABV, it's an adventure worth taking. Our favorite is the Drafty Kilt, a Scotch ale. It's dark, it's malty, and it has nice hints of chocolate. Save this one for last and leave the brewery with a smile.
Someone will have to watch what they are drinking as you must drive over to Bone Lick BBQ for dinner. Sit at a vintage video game table while you eat some of the best BBQ in the area. Try the Fat Ass sampler, not just because it has a little of everything, but because with a name like "Fat Ass", you want to say it to your server. You will be glad you did. With ribs, sausage, chicken, pork, brisket and a side, it's the perfect way to try everything in the place. If you are lucky, there will be leftovers for lunch.
Before dessert, play a few games of skee-ball and remember what it's like to play a non-electronic game. It's free, just don't sit near the machine because it's really loud on that side of the room. Save some room for the fried bread pudding. We love bread pudding, and Bone Lick has figured out a way to make it even better. It's certainly a unique way to finish your meal.
$$
670 Trabert Avenue, Atlanta, GA