5 Questions with Chris Angelus of Portland Food Adventures in Oregon
Chris Angelus is the founder of Portland Food Adventures, which turns local chef's restaurant recommendations into unique food experiences. He also writes for About Face Magazine as its cuisine editor. Most recently his latest venture is a podcast, RightAtTheFork.com, a weekly talk with some of Portland's discovered and undiscovered culinary talents. We sat down to ask him a few questions...
1. What is Portland Food Adventures?
It's become more diverse than it was, but basically it's a unique way to explore the Portland food scene through interactive dinners where chefs talk about their work and personal lives, and then talk about their favorite eating and drinking places in Portland. Diners then may go explore the chef's favorite places armed with gift certificates they received at that chef's Portland Food Adventures dinner.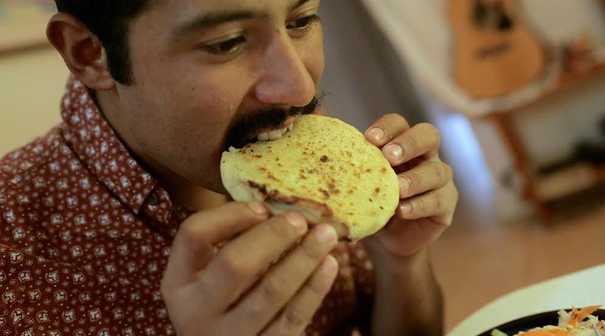 Rodriguez eating pupusas
What do you enjoy about the Portland Food Adventure dinners?
What has become most gratifying for me isn't necessarily eating great food at a fantastic restaurant. It's the social experience of getting a group of like-minded people together and having them click, and have a party. Nothing makes me happier than the sound of 35 people having a blast. I love when people who have come to a dinner call to reserve the next one and ask if they can sit with the people they first met at the previous event. Those experiences are invaluable to me, and they happen often.
2. Tell us how the food scene in Portland has evolved in the last decade
I've been here about that long. It was just really starting to blossom in 2005. And then The Food Network came into being, and people started paying attention to chefs. Now we're into another generation of chefs beginning to realize their dreams. Some have worked under our nationally known chefs like Vitaly Paley and Andy Ricker, like Gabriel Rucker and Nong, who just opened her first restaurant after having one of Portland's most popular food carts for a long time.
Now guys like Rucker are opening new places or their sous are on the build their own careers. Lastly, the big guys and gals are all doing cookbooks now. Next up, service. But one of the things that keeps Portland dining relatively inexpensive is that service isn't always the star of the show. It can be, but it's inconsistent.
3. If a foodies are coming to Portland for the first time, what neighborhoods should they check out?
Portland is made up of neighborhoods, and each has its own vibrant food scene. Downtown is hot now. Last year it was Division (and it still is!) and Alberta before that. Mississippi and North Williams are kicking ass, too. Did I mention Concordia? And the Northwest? And the Pearl. It really is crazy.
If someone wants the full on experience, they need to be here for weeks or months, not days. Only then does one really get an understand of how vast our food scene is, especially for a city our size. A Portland food vacation is a great idea, including the beautiful Oregon coast. And I'd be happy to plan one out for people for a reasonable "food sherpa" fee.
4. What is the food truck scene like in Portland?
First of all, in Portland, they are not food trucks. They are called food carts because the vast majority are stationary and can be found in what we call pods. There are dozens of pods strewn throughout different neighborhoods, which are basically empty city blocks filled with anywhere between six and thirty-six food carts. (Downtown has three huge pods). So, a few hungry people can visit a pod, and decide individually what they would like to eat, and experience very good food made by passionate people who specialize in one or two things. Or, for the real foodie, they can eat like a beast and try many different types of food without going too far.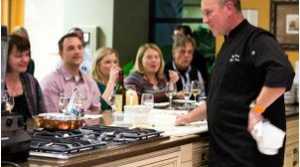 Portland Food Adventures Dinner
Many of our food cart owners go on to open excellent restaurants. Pok Pok (now with multiple locations in Portland and New York), Lardo (Two years ago one food cart. Now four sandwich joints and a pasta place), Shut up and Eat and Nong's come to mind. It's different than any other city with our stationery pods.