The Top 5 Brunch Spots in Seattle
It is not your regular bacon, eggs and toast that you will find here in Seattle for a typical brunch. Several restaurants and chefs strive to marry their lineage or an inspiration to the wonderfully abundant local food sources out here in the Northwest. It is really hard to pick out just 5 favorite brunch spots in Seattle but here is the top 5 not-to-miss brunch spots for you to go to if you were to visit the Seattle area.
1. Portage Bay Café
If you ask me to tell you one brunch place to go to in Seattle, Portage Bay would be my answer. I think I can safely say that it is the best brunch spot in Seattle. They source organic and sustainable ingredients from local farms and sources and you can see it in their menu as well as in a big list at the front.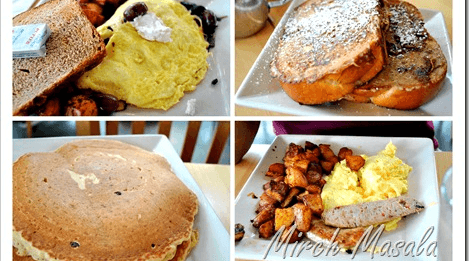 Weekends can get really crowded, so it is best to get reservations or to go earlier than you would like to eat, to get your name in. You can however sip some free drip coffee they have set up at the front, while you wait. My personal favorites are Migas – a burrito of sort, the Farmer's Hash, Goat Cheese Scramble and their Eggs Benedicts'. Several dishes on the menu can be made vegetarian, vegan or gluten free. Be sure to order something from their "Breakfast Bar" section of the menu. This has pancakes and French toast and you get to top your dish as much as you want with anything from the breakfast toppings bar.
The bar has a wide variety of seasonal fruits, nuts, maple syrup and whipped cream and they are all just so good! Portage Bay has three locations in the Seattle area and all three are equally good and popular.
$$$
4130 Roosevelt Way NE, Seattle, WA
(206) 547-8230
2. Lola
A visit to Seattle definitely deserves a visit to at least one of the restaurants of the city's culinary mogul, Tom Douglas. Though his other restaurants also serve brunch, especially noteworthy of the lot for brunch is Lola. Lola serves Middle Eastern inspired food made from local ingredients.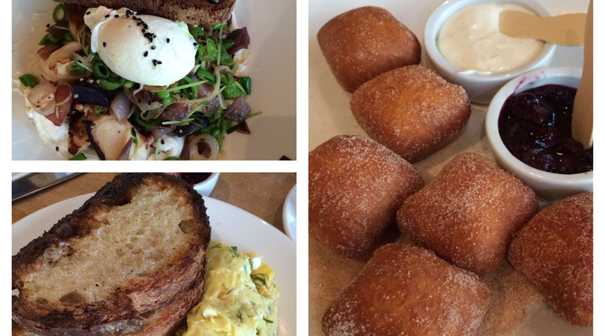 While everything on their brunch menu is well balanced, flavorful and delicious, you should definitely not miss the kebabs and the lamb shawarma. Order not one but maybe an extra one to-go (shhh! We won't tell anyone) of the made to order doughnuts that comes with vanilla mascarpone and seasonal jam.
Tom's Big Breakfast with Mediterranean octopus, vegetables, bacon, and green garlic yogurt and topped with a poached egg is also something that is definitely worth ordering, if you have any space left after the delicious kebabs and the doughnuts
$$$
2000 4th Avenue, Seattle, WA
(206) 441-1430
3. Toulouse Petit Kitchen & Lounge
Toulouse Petit is a New Orleans meets Seattle restaurant that serves an amazing brunch during the day and transforms into an equally amazing dinner and happy hour spot at night. Their claim to fame is having more than 50 preparations in their happy hour menu all priced under $10.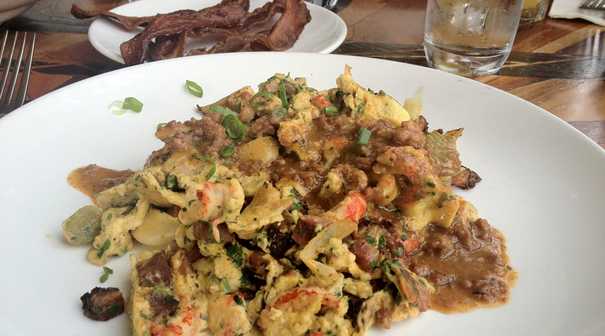 Toulouse Petit Kitchen & Lounge
The breakfast menu is available all day but they have a special breakfast happy hour from 8 am to 11 am where most items on the breakfast menu is only $9 and some others have a special reduced pricing during the breakfast happy hour.
You just have to try everything on the menu here – the crawfish tasso scramble, the Dungeness crab benedicts, the Creole crawfish sausage, the Cajun meatloaf and eggs with gravy and wash it down with either the Toulouse Hurricane or the Creole Bloody Mary. Don't forget to try the pillowy soft beignets that will make you feel you are in Café Du Monde. Reservations are very strongly recommended. Sometimes reservations get so full that don't even allow walk-ins.
$$
601 Queen Anne Avenue North, Seattle, WA
(206) 432-9069
4. Citizen
A laidback neighborhood joint that has a hipster-y vibe to it – that is how I would describe Citizen. It is a great atmosphere with the exposed brick walls, attic like second floor seating are with a couch and coffee table and a pretty good outdoor seating area which is in high demand during Seattle's few sunny warm days.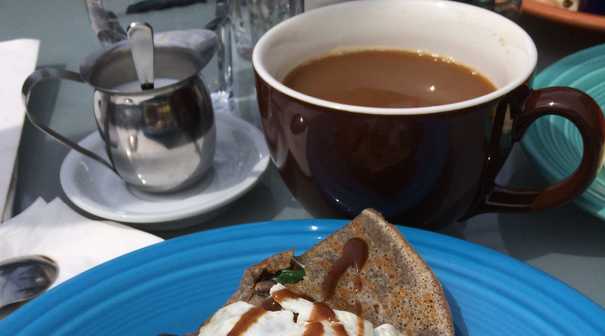 It is a small-ish space, so it can get crowded at times, but I have never experienced a very long wait here, so far. Apart from the regular breakfast egg items, they have sweet and savory crepes on the menu. You will definitely want to have the Citizen crepe and don't forget that extra fried egg to add to it. It just makes the crepe so much more delicious.
Try one of the sweet crepes too, if you have a sweet tooth like me and don't forget to ask for the monthly crepe specials which are usually seasonal. Inexpensive mimosas and wines by the glass is an additional bonus.
$
706 Taylor Ave North, Seattle, WA
(206) 284-1015
5. Pomegranate Bistro
Pomegranate Bistro is a favorite brunch spot on the Eastside (east of the SR 520 Bridge) of the Greater Seattle Area. It is part of the Lisa Dupar catering company. Brunches are available on the weekends and they have a limited breakfast menu for other days. If you get a table towards the back of the restaurant, you can see Lisa's crew in action though huge glass windows.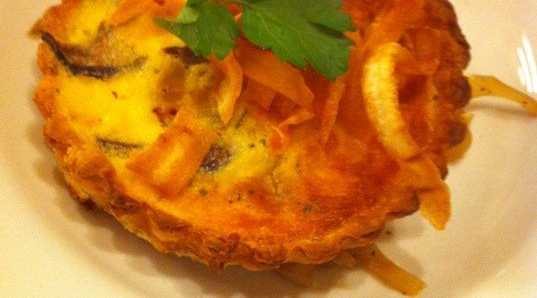 It is nice to watch the goings-on in the bakery while you wait for your food to arrive. The Southern Fried Chicken and Waffles are something you should not miss, so are the fire breads and the quiche. They have their bakery out at the front near where you wait and you can order your dessert from there to be brought to the table or to take it to-go to eat later.
$$$
18005 NE 68th Street, Redmond, WA
(425)556-5972