The Top 5 Burgers in Atlanta
This summer, my partner-in-crime and I ate some of metro-Atlanta's best cheeseburgers. I say "some" of the best because this is not an exhaustive list of the best cheeseburgers in the entire metro Atlanta area.
However, over the course of a few weeks we ate a dozen or so burgers around town and took pictures and notes on what we ate. We specifically avoided "burger joints," and sought out burgers that have a special place on menus around town.
So, without further ado, here are our Top Five Burgers in Atlanta:
1. The Meat Stick at One Eared Stag
The Meat Stick at One Eared Stag came out on top of our list. The meat stick is cheeseburger perfection. The bacon in the grind adds a fatty, salty, richness that when coupled with the nicely crisped edges and toasted bun creates a heavenly burger experience. No need to confuse this perfection with toppings that ooze or drip or over-complicate things. Just beefy, cheesy goodness. My mouth is watering now thinking about this burger as I'm writing.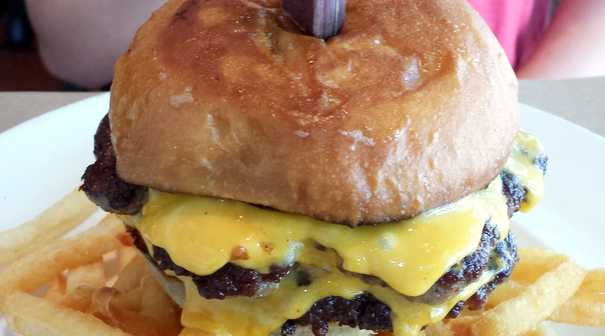 OES-Meat-Stick-good
1029 Edgewood Ave, Atlanta, Georgia
2. Holeman & Finch Burger
The H&F burger at the Ted. This was our first-place burger most of the summer, until we ran into the Meat Stick. There's been plenty written about the legend of the H&F burger. I won't retell that story here. Plain and simple, this is a great cheeseburger, and it's impressive that they can crank these burgers out by the hundreds (thousands?) on game day without losing too much of the quality you expect in the H&F burger.Yum factor high.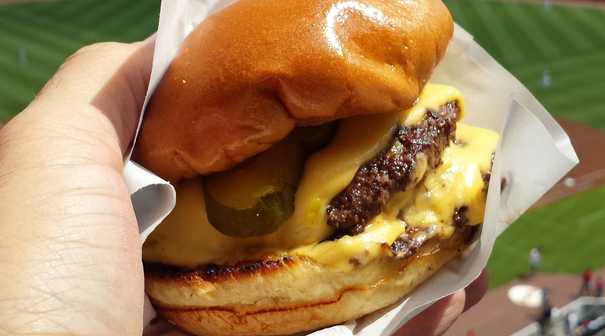 Holeman-Finch-Burger
2277 Peachtree Road, Atlanta, Georgia
http://holeman-finch.com/burger.html
3. Bocado Burger Stack
I hadn't had the Bocado double stack in a few years. It is still awesome. Similar to the meat stick in texture and meat-to-cheese ratio, the Bocado burger is juicy, salty, and crunchy in the right spots. The patties are thin and crispy, coated with lots of drippy, yellow American-style sliced cheese. Big yums on Westside of town, though, Bocado Burger Bar will soon be open north of the city in Alpharetta.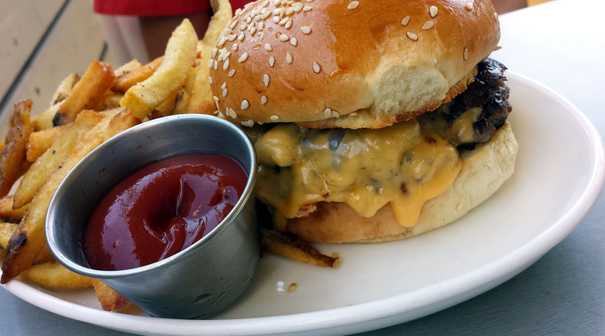 Bocado-Burger
887 Howell Mill Road, Atlanta, Georgia
4. Pinewood Tippling Room
A shout out to my city of Decatur with our number 4 burger from The Pinewood Tippling Room. Another decadent double stack, and be sure to get Pinewood's addictive tater tots on the side.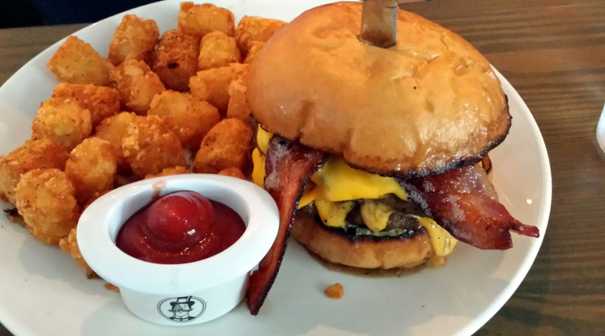 Pinewood-Cheeseburger
254 West Ponce de Leon, Decatur, Georgia
http://www.pinewoodtr.com/
5. The General Muir
The General Muir double stack is similar to others on our list and no-less special. Two thin patties, fried on flat top to crispy, salty perfection. It hits all the right notes and will cure your burger hunger instantly. Located north of downtown near Emory University and the CDC. Get there early for lunch or be prepared to wait.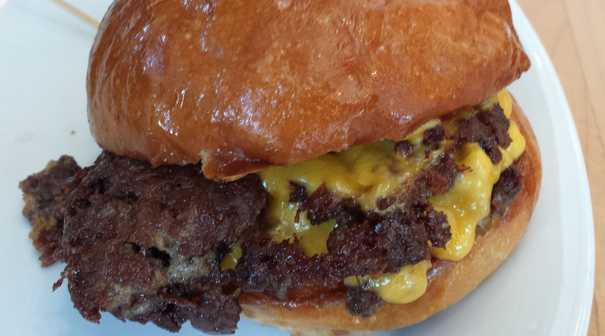 General-Muir-Double-Stack.-2jpg
1540 Avenue Place, Atlanta, Georgia