Top 5 Fun and Funky Places to Eat In Downtown Barrie, Ontario
A one hour drive north of the City of Toronto is the lakeside community of Barrie. Wrapped around Kempenfelt Bay (an arm of Lake Simcoe), Barrie is a fast growing city with its roots in farming and the railway.
Its Victorian era downtown was once the domain of mom-and-pop diners and hardware shops, but it has grown up in the most amazing fashion and is now home to a variety of ethnic eateries, vegetarian restaurants, cool cafes and sandwich shops, upscale burger joints and fine dining establishments.
I once led a culinary tour through Downtown Barrie which really opened my eyes to the fun things going on in the neighbourhood.
I did a little research before my dining adventure and was surprised to find no less than fifty two unique places to grab a bite in this not overly large locality.
Wow – you could try a different restaurant once a week for a year!
It's hard to pick just five, but here are a few special ones that I really enjoy.
1. Tiffins Curry In A Hurry
Small and cosy, decorated in warm colours and Indian artifacts, is the super friendly Tiffins Curry In A Hurry. Goldie is the hostess, bubbly and welcoming. Chef Kay, her husband, is a quiet master of spices, and together they make the ideal team.
Come in and sample the dreamiest butter chicken, chana masala, or korma.
If you are feeling brave, and looking for something found on no other menu in Canada, order the phaal curry. That's right – diners come from all over to try the world's hottest curry at Tiffins. Can your palate tolerate 800,000 – 1,000,000 units of heat? One way to find out!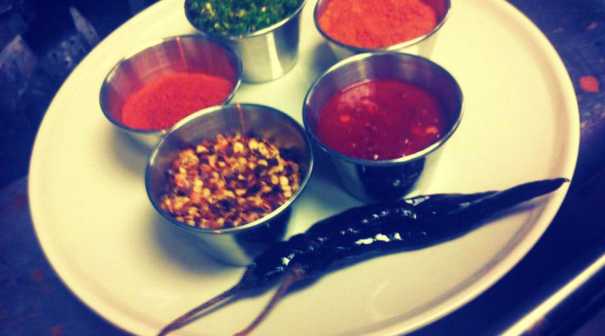 7 Dunlop St. E., Barrie, Ontario
(705) 252-5816
http://www.tiffinscurry.com
2. Kenzington Burger Bar
This place will no longer be Barrie's private burger heaven once the recently filmed episode of "You Gotta Eat Here" airs on the Food Network !
The whole world will know all about the amazing house made burgers and all their delicious sides, sauces and toppings also made on site. Whether it be beef, veggie, turkey or other burger, you can pick from a variety of sides and breads and then choose a topping style with crazy names like the cowboy, porky or black & blue.
A uniquely Canadian cocktail, the bloody caesar, is served here but with a garnish that is Kenzington all over – a tall skewer with olives, tomato, lemon and a slider hamburger.
Oh ya!
40 Dunlop St. E., Barrie, Ontario
(705) 725-1667
3. The Grilled Cheese Social Eatery
How many ways can you make a grilled cheese sandwich? Oh you'd be surprised!
This little place has been very popular since it opened. It serves up all kinds of toasty, cheesy goodness to the lunch crowd daily and re-opens after a few hours break to tame the hunger of the after bar crowd.
Grab a green goddess, dill-icious or jalapeno popper sammy and slide into a cosy nook or do some people watching at the front counter.
While you're there, think about buying a Suspended Coffee or sandwich. This is a worldwide movement whereby people buy coffees for the less fortunate, and distribute them to local street people.
Lots of warm feels at the GCSE.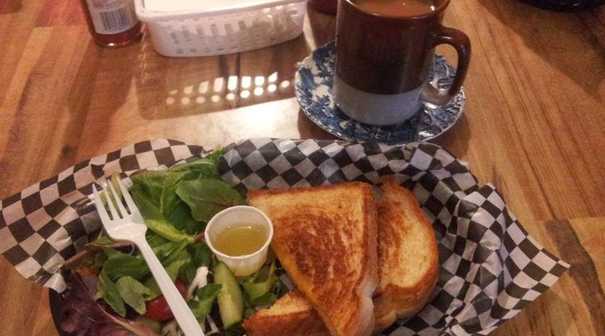 The Grilled Cheese Social Eatery
53 Dunlop St. E., Barrie, Ontario
4. The Lazy Tulip Cafe
Another tiny but mighty gem tucked into a very vintage building, the Lazy Tulip is less lazy and more of a beehive of activity.
The attraction is what the Tulip so aptly describes as breakfast and lunch that is fresh, soulful and healthy in a quaint and funky setting.
They specialize in wraps and paninis, flavourful soups, crepes, salads and homemade bread. A lot of their menu is vegetarian, and you will be happy to see the LT is conscious and serving gluten free, fair trade, organic and local fare.
Your taste buds will be happy too.
My taste buds are craving the colourful and crunchy Thai Tofu Wrap right now! Mmmmm.
29 Maple St., Barrie, Ontario
(705) 252-0910
5. Unity Market Cafe & Studio
A converted garage with the oddest of architecture, painted in wild colours, sits near the corner of Toronto and Simcoe Streets. This is the home of the Unity Market, a fun mish-mash of culture, art, food, music and community activism.
The ever changing menu of homemade, local, organic fare is sure to surprise and delight. How does Moroccan squash soup sound? Or cheddar spinach quiche, scalloped potato shepherd's pie or cranberry hemp seed carob cookies?
Sip a spicy pumpkin latte and browse among all the local art for sale – bags, jewelry, stained glass and more.
Want to record a song? There's a recording studio upstairs!
Visit during regular hours or get into the action by taking part in cypher night, song writers night, kids art events, poetry readings or lakeshore clean-ups.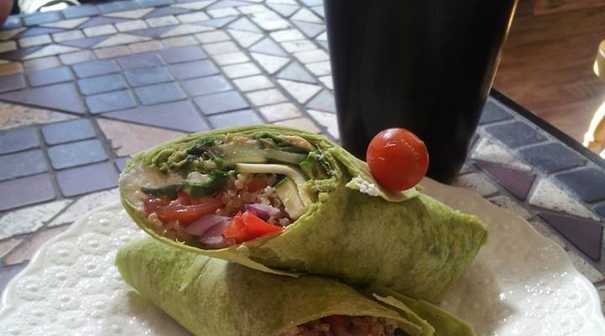 Unity Market Cafe & Studio
25 Toronto St., Barrie, Ontario
(705) 737-5208
https://www.facebook.com/UnityMarket/timeline?ref=page_internal