The Top 5 Toronto Burgers
I find that every city has its own version of what a burger should taste like, and Toronto is no different. We Torontonians are frequently on a quest to find the best Toronto burgers. Many articles have been written about where to find these ooey-gooey delicacies. This post is not about the best burger joints, but rather where you will find the top five burgers in the city of Toronto.
You may be like me in that when traveling, I tend to plan my restaurants ahead of time and bookmark each and every one of the places I must visit when I am there. Once on location, I find myself immersed in the culture and the food. Though I can't get enough of the local food, I often manage to sneak in a burger when I feel like changing up the taste in my palate. I do, however, refuse to indulge in the beefy and cheesy staple unless it's from a place that locals recommend. Try these Toronto burgers the next time you visit my city.
1. The Vatican from The Burger's Priest
This burger is legendary and known to Torontonians as the heart-attack burger. The priest (aka owner Shant Mardirosian ) gives you a juicy custom blend of ultra premium beef, ground up multiple times on the premises, with a ton of flavor and a perfect grilling technique. The Vatican has no special ingredients or crazy concoctions. It is simply an all-American classic wrapped on grilled cheese buns. It is by far the best simple American burger you will ever have. Amen!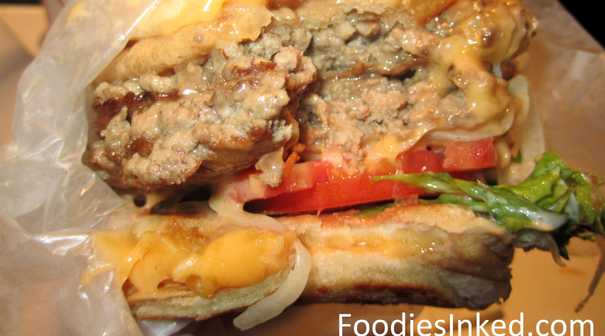 Foodie Tip : Burger's Priest is always closed on Sundays, as the priest goes to church, literally. The same taste and flavor will be encountered at any of the three locations in the Greater Toronto area.
2. John's Burger from Marben
Visiting Marben will satisfy your burger craving. You will be lured into this downtown restaurant just to have a bite of their famous John's Burger. Marben uses braised ribs mixed with ground beef to make their patties. This burger is definitely all about the meat and its flavor.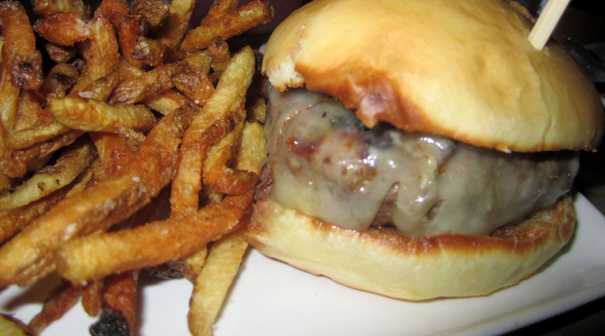 The burger comes served only with branston pickle (a variety of pickled diced vegetables), aged white cheddar, and a specialty house-made sauce. The aged cheddar is perfectly melted on the braised rib patty and covers it in its entirety. One bite into the burger, and you know you have just entered dangerous territory – otherwise called addiction.
3. The Barnyard Burger from FARMHOUSE Tavern
FARMHOUSE tavern is not your typical restaurant. This hipster-style spot located in the Junction Triangle defies all traditional rules. Owner Darcy MacDonell follows a simple farm-to-fork philosophy with versatile ingredients and innovative weekly menu items. Their Barnyard Burger is one of those few items that are evergreen on their menu; you can always find it whether you are in for brunch, lunch, or dinner. This burger has a sweet blend of chuck and short rib. The chef personally hand picks the meat that will be used in your burgers.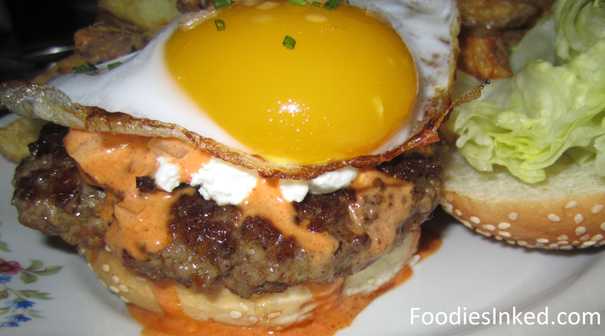 The burger is served medium-rare to medium and is topped with goat cheese, a runny tomato sauce that adds a nice kick, and a fried duck egg. Duck eggs tend to be stronger in flavor as they have more fat in the yolks and more protein in the whites. This is a match made in heaven as the combination of the juicy, punchy sauce with the egg, meat, and light goat cheese is brilliant.
4. The Gringo Burger from Yellow Griffin Pub
With about 35 burgers varieties, including eight meat choices and ten sides from which to choose, the Gringo Burger is your go-to burger at this Bloor West Village joint.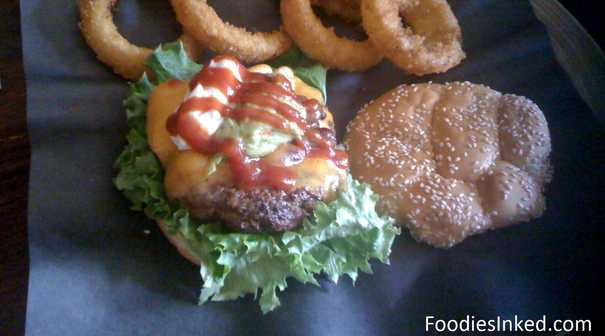 This burger is a Tex-Mex version served with Mexican beans, lettuce, sour cream, chili sauce, homemade guacamole, and cheddar cheese. It's everything you will ever want in a burrito, wrapped in the body of a burger.
5. The Stem Burger from BQM Burger
This Queen West location offers diners a selection of burgers, meats, and toppings like no other. BQM founder Saeed Sheff Mohamed allows you to pick everything. Choosing the chuck part of the cow for my patty (you can pick between chuck, sirloin, or brisket ), my Stem Burger usually comes accompanied with a fried egg (soft yolk), bacon, avocado, mozzarella cheese, tomato, and lettuce.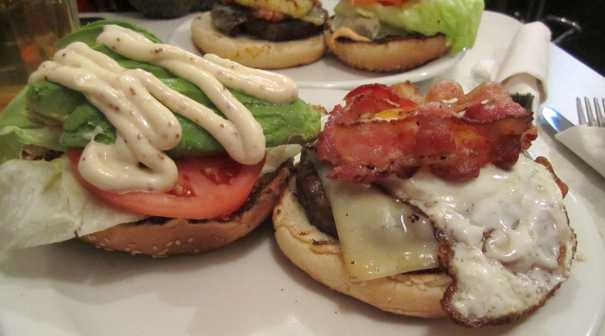 BQM adds a crazy-good garlic-mayo aioli sauce that brings all the flavors together. This is definitely the place to visit when looking for a personalized beefy friend.
If you're one of those people who can't resist a beautiful burger, then grab some napkins, get your jaw-dropping muscles ready, and come try some of the best burgers in Toronto. What meats and toppings do you like with your burgers?
Viviana Machado, food writer passionista and lover of all things culinary, is the voice behind Foodies Inked, a food blog dishing out on the best places to eat in Toronto.