The Top 5 Bowls of Ramen in Toronto
The selection of authentic Japanese ramen in Toronto has grown exponentially in the past five years. Ramen shops originating from Japan and Vancouver now populate the downtown core offering eaters a variety of options. A bowl of ramen is like a burger, in the sense that although the base components are common (noodles, broth, toppings), everyone has a unique preference to how each ingredient is cooked and the whole dish assembled. In Toronto, you'll be able to find a combination that meets any preference at one of the restaurants listed. What I look for in a bowl of ramen are three things: The noodles – are they chewy? has a good texture? not doughy and not over done? The broth – is it rich? how much fat is there? is it bland? and even for me, is it too salty? The toppings – what's included? is there an egg? how's the meat cooked? garlic paste? bamboo? seaweed? is there a good portion and balance?
1. Sansotei Ramen
With two locations in Toronto, the original at Dundas and University and the second at Yonge and Bloor, Sansotei is located in the heart of Toronto and my favourite stop for a bowl of noodles. Both locations are small, seating about 25 people and don't be surprised if there's a queue outside at peak meal times. Turn around is fast though so the wait is quick. The menu is short, concise and the servers efficient. My go to order is the Tonkotsu Ramen with thick noodles and an extra marinated soft boiled egg on top. The broth is milky, creamy, on the salty side, and the noodles perfectly al dente. The thin slices of bbq pork belly is rolled, thin and melts in your mouth. Another good option is the Spicy Tan Tan Ramen for those who enjoy some heat. In addition to ramen, Sansotei's Chashu Don (bbq pork belly over rice) is a good bet. Sansotei is a perfect stop for a quick and delicious ramen meal.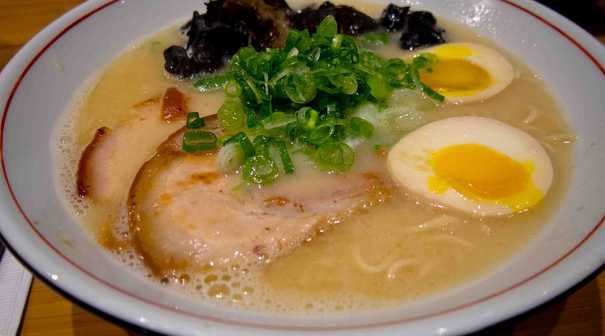 179 Dundas St West, Toronto, ON
(647) 748-3833
2. Santouka Ramen
Santouka Ramen originated in Japan and now has many locations throughout Asia, the US and two in Canada. The Toronto outpost is located a block from the Eaton Centre and Ryerson university; a perfect lunch spot when touring the city. If you can, grab a seat at the kitchen bar and watch chefs assemble each order. This is a very common layout in Japan. Santouka's menu is more expansive with meal combos and a limited number of Toroniku bowls, their signature pork jowl ramen, every day. The noodles have a great texture, not too soft and still chewy while the broth is fatty, rich and mild in salt. Toppings include bamboo, seaweed, two slices of thick, buttery bbq pork belly and a salted plum. Santouka is great for families and those with a big appetite.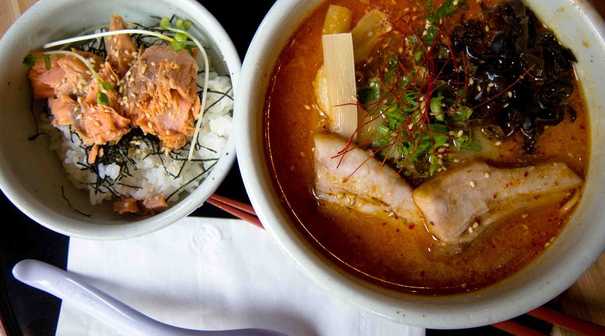 91 Dundas Street E, Toronto, ON
http://www.santouka.co.jp/en
3. Kinton Ramen
With three locations in Toronto, Kinton ramen is a favourite of many locals. The atmosphere is boisterous, friendly and hectic. Servers greet you with an enthusiastic welcome and bid you farewell with the same energy. Despite the busy pace, service is friendly and efficient. Kinton offers every customer the opportunity to become a "Kinton Bowler" by polishing off their ramen, broth and all. If successful, you get your picture taken and posted on their Facebook page, a member card and a stamp. Collect 10 stamps and the reward levels start with a free 10pc gyoza. Aside from the loyalty program, Kinton puts out a great bowl of ramen with the best bbq pork belly topping in town. Occasionally, Kinton runs special, Mega Bowl challenges where you're given 15 minutes to polish off a supersized bowl of ramen with a mountain of toppings. Kinton is the place to go if you're looking for a lively dinner.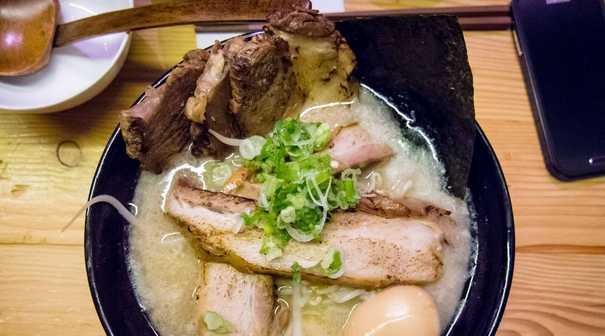 51 Baldwin St, Toronto, ON
4. Touhenboku Ramen
One of the newest additions to Toronto's ramen scene is Touhenboku, who now has two locations. The original is at Queen and University with a second restaurant with an expanded izakaya menu has opened at Yonge and Eglinton. Touhenboku specializes in chicken based broth and I'm always surprised at how rich and creamy their soup is. Each bowl of ramen is fully customizable from the thickness of the noodle, sea salt or soy for the seasoning and the cut of meat for the topping, which includes chicken. Touhenboku offers great value with their lunch combos that include a bowl of ramen and a small donburi. My favourite is their kaarage don, deep fried bites of chicken with Japanese mayonnaise on a bed of steamed rice. Dessert is another course that shouldn't be skipped. Their in-house Mille Crepe is light, airy and a sweet end to any meal. Touhenboku's is a great venue for those who don't eat pork to still enjoy a delicious, authentic bowl of ramen.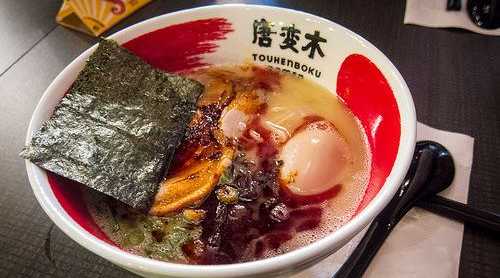 261 Queen St W, Toronto, ON
http://touhenboku.ca/
5. Ramen Raijin
Two blocks north of Santouka is Ramen Raijin, named after the Japanese god of Thunder. One of the biggest draws of Ramen Raijin is their spacious dining area and large private room, perfect for large groups. Ramen Raijin also serves Tsukumen, a special type of ramen where the noodles are served separate from the broth and is dipped into it. In addition to the usual bowls of Tonkotsu ramen, the menu also includes some delicious deviations including the Kakuni Ramen (topped with cubed braised pork belly and canola greens). Noodles are chewy and the broth milky and flavourful. Ramen Raijin is an ideal ramen shop for large parties looking for an expanded menu.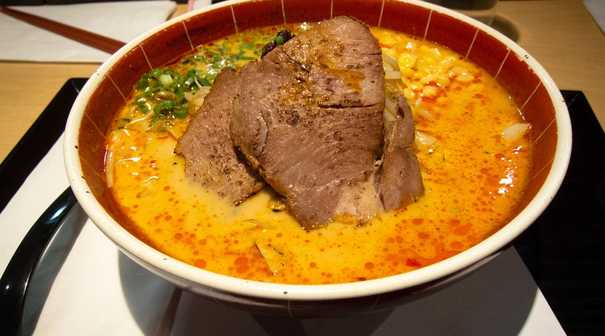 3 Gerrard Street E, Toronto, ON