5 Questions with Karen Anderson of Calgary Food Tours
Karen Anderson started Calgary Food Tours Inc. in 2006. She is a journalist with regular columns for print and radio and served on the board of Slow Food Calgary for many years. Anderson's cutting-edge journalistic research, passion for food and cooking and community connectivity have given Calgary Food Tours Inc. an outstanding reputation for quality in the industry. Calgary Food Tours Inc. offers tours May through October. We asked Karen a few questions...
1. What dishes is Calgary known for?
Calgary is famous for the Calgary Stampede, which is the world's largest outdoor rodeo and celebration of our western heritage and cowboy culture. Alberta beef is famous the world over because of its taste and flavour and for that we have been "branded" as cowtown. This is great and we love that but we are also Canada's chowtown. Bison and elk are native to the Great Plains and Canadian Rocky Mountains. We are the world's leading growers of wheat, lentils and mustard and the 5th largest producer of honey. We've got sweet fruits and vegetables because of our long days of sun and cool nights. So many wonderful chefs have come here and opened fabulous restaurants because they love the quality of our local produce.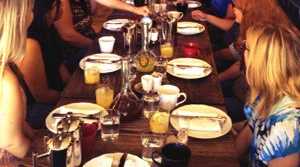 Experience a Calgary Food Tour
2. What happens on a food tour?
Calgary Food Tours Inc. is about food, fun and adventure. Our guests taste the very best food our city has to offer at six to eight great restaurants, markets or food artisans; they have the fun of meeting chefs and owners of businesses and they enjoy the adventure of strolling through a neighbourhood and learning about its art, architecture and history. The whole things feels like a mini-break spent with a local who will feed the best food and "insider" information that travelers revel in.
Calgary Food Tours
3. If it is our first trip to Calgary, which food tour do you recommend?
Inglewood's Edible Enticements would be great for a first time visitor to Calgary as Inglewood is the cradle of our history and is the site where our city was founded. The partners we visit on this tour really exemplify the maverick spirit of the west and we love to tell their stories. It's a delicious Wild West tale with immigrants, rebels, importers and lots of homegrown great tasting success.
4. Who are some of the notable Calgary chefs we should keep our eyes on?
Each of our tours has a line up of chefs that could be considered rising stars but I'm most impressed with their more senior peers, as they are chefs that act as mentors. My friend Paul Rogalski of Rouge Restaurant has brought many young chefs up through the ranks and they've gone onto open stellar places of their own. We feature J.P. Pedhirney at Muse Restaurant and J.P. honed his skills under Paul's tutelage. Cam Dobranski of Brasserie Kensington is another chef influencer. Chef Duncan Ly of The Hotel Arts group is a Gold Medal Plates gold medal winner and many up and coming chefs try to emulate the beauty and taste of his food. Many of the city's great chefs did time on the line at River Café with Dwayne Ennest, Scott Pohorelic or Andrew Winfield so if you can trace a chef back to there you know they've got rock solid skills and their food is going to be outstanding. Michael Noble and Catch is another great example of leaders leaving a legacy of fabulous food for our city.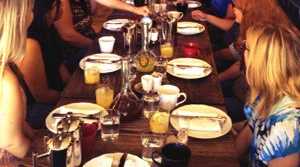 Experience a Calgary Food Tour
5. Tell us some trivia about the Calgary food scene
Canada's most famous cocktail is called " The Bloody Caesar " and it was invented in Calgary by a bartender named Walter Chell in 1969. It's tomato and clam juices with a spicy kick. It might be an acquired taste but it's loved nation-wide.
Calgary has had a chapter of Slow Food International since 2002 and celebrates our connection to local producers annually at a huge event called Feast of Fields.
There are approximately 200 community gardens, 13 urban farms, 400 backyard beekeepers, several restaurants with rooftop gardens, and an amazing 11 acre garden, seed bank and apiary called Grow Calgary that keeps 500 volunteers busy growing food for the city's food bank.
During the 10 days of The Calgary Stampede there are dozens of free Pancake Breakfasts throughout the city each morning that are a part of our amazing western hospitality. Just put on a cowboy hat and come on out and you'll get fed.