Imbibe Like the Locals: 5 Unique Spots for the Best Drinks in Boston
Boston is a proud city and that sentiment doesn't stop at its food and drink. In an urban hub with lots going on, it's hard to navigate what you're really looking for. These five restaurants, bars, and bowling alleys (!!) have been carefully selected to give you a taste of the variety Boston has to offer. From upscale craft cocktails near Fenway park to live jazz in the South End, to the neighborhood bowling alley that serves organic pizza across the Charles River, these places have one thing in common: they're known for their serious attitude for providing the best in cocktails, local beer, and great food as well. These spots have been Zagat noticed and locally praised, but they're not where someone visiting Boston might normally find themselves. Spread throughout different neighborhoods of Boston, if a fantastic drink, tasty food, and experiencing Boston's life outside the usual downtown spots interests you, I invite you to venture into the deliciously local scene.
1. Highland Kitchen
Favorite drink: The Dorchester : vodka, triple sec, pink lemonade, cucumber ($7)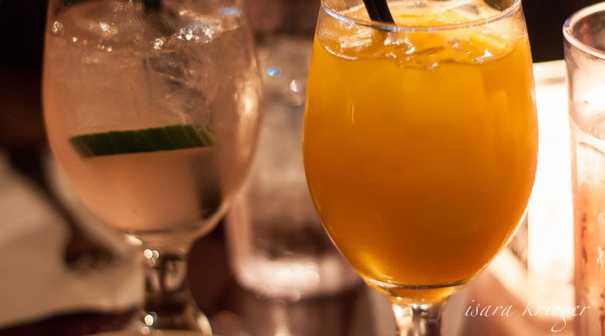 The wait might be long on Friday and Saturday nights as they don't take reservations, but this popularity means the bar is lively every other day of the week too. A true neighborhood hangout, it's family owned and known for its American style comfort food and welcoming feel. The food is also excellent, Zagat named it a ' Best Restaurant in America ' in 2008 and 2009. You must try the Buffalo Fried Brussel Sprouts $6.95 and Spicy goat stew $18.95. Am I catching anyone's attention? If you're driving, there's a parking lot behind the restaurant off Central St. and street parking as well.
$$
150 Highland Ave, Somerville, MA 02143
(617) 625-1131
2. jm Curley
Favorite Drink: Dark & Stormy: dark rum, lime, "ginger-brew", sugar rim ($9)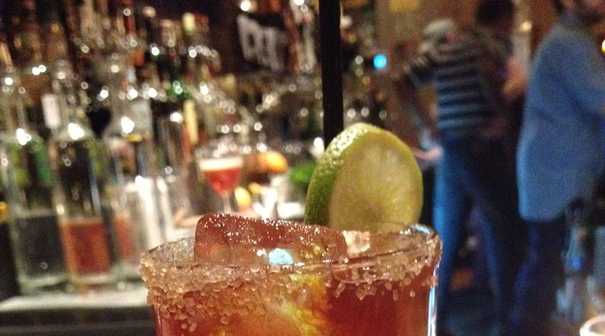 Named after the city's former Mayor, this place offers upscale bar food and acts as a regular hangout for people who work in the restaurant industry. It doesn't take reservations either but between bar seats and other tables space opens quickly. Somewhat new to Boston's foodie scene, it's generated a lot of buzz for its Burger and late night menu with spiked 'Concretes' (Milkshakes). Other interesting food items from its always-themed chalkboard specials have included a Foie Gras Donut and bacon grease popcorn. The restaurant also offers fried pickles that are to die for. It's perfect for sharing a few small plates and sipping on something delicious.
Fun fact: there's an entrance to another, 'Adults Only' restaurant called Bogie's Place through jm Curley that keeps to itself and doesn't allow cell phone use inside. I don't fully understand what experience is offered behind the door to this second spot, but if you're adventurous it might be something to try as well. Parking is limited to garages or getting very lucky on the street. Public transit might be the best way to get there as it's right by Park St. Station and the Boston Common.
$$
21 Temple Place, Boston, MA 02111
(617) 338-5333
3. Flatbread Co. & Sacco's Bowl Haven
Favorite Drink: Seasonal Local Brews.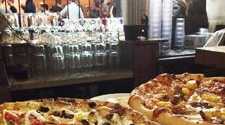 Flatbread Co. & Sacco's Bowl Haven
Take a break from the cocktails and venture to Davis Square (an easy shot on the Red Line T from downtown) to Flatbread Co. at Sacco's Bowl Haven. This joint cooks up fantastic flatbread pizzas using only organic and locally sourced ingredients, serves beer, and offers bowling lanes all in one. Come with the kids to bowl and chow, or with friends to sit at the long bar and watch the bowling balls fly down the alley. It's a great place to try unique local beers from MA, ME, NH, VT and more. A pizza necessity is Jimmy's Free-Range Chicken Pizza with black beans, cilantro, tomato, roasted corn, sour cream and jalepeños, $12.50 small, $19.75 large. If you do drive, there's meter parking throughout Davis Square.
$$
45 Day St., Somerville, MA 02144
(617) 776-0552
http://www.flatbreadcompany.com/FlatbreadSacco2010.html
4. The Beehive
Favorite Drink: Sangria: Red wine, muddled fruit, brandy ($8.50)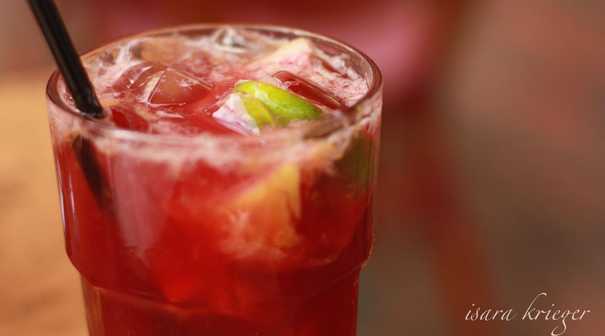 There are endless reasons the Beehive should be a must see stop on your agenda. Chef Marc Orfaly incorporates Middle Eastern and European influences with American style and locally sourced ingredients to serve her contemporary cuisine in an art-infused setting that provides live jazz music during weekend brunch. Still not convinced? It's been named a 'Must See' not only by me but by Travel & Leisure Magazine, Zagat, and The New York Times, and named one of the Top 100 Jazz Clubs in the country by Downbeat Magazine. It so happens the cocktails are fantastic as well, with an extensive bar program. I'd recommend going for the brunch, and, as we're crossing our fingers for spring's arrival, scouting out a warm day to sit on the patio and observe the goings on of Boston's classy South End. You can walk to this area from the Copley area and Back Bay Station. There is some sparse street parking.
$$
541 Tremont St., Boston, MA 02120
(617) 423-0069
5. Eastern Standard
Favorite Drink: Nouvelle Fleur: St. germain, tequila, citrus, aperol ($12)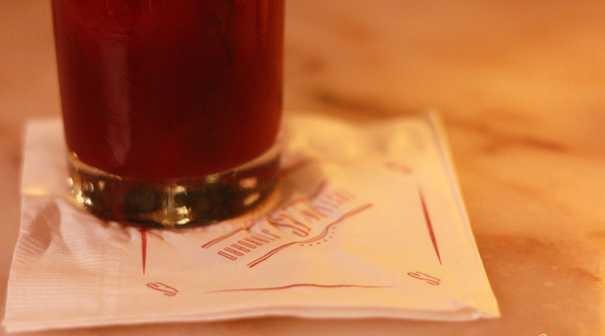 Eastern Standard is another place with lots to offer. Steps from Fenway Park, it's famed for its extensive craft cocktail list, sophisticated late night bar menu, and for, my favorite part, its Butterscotch Bread Pudding with praline ice cream and salted caramel $8. Its experience in the Boston restaurant scene has allowed it to adapt to and please different types of people, creating different types of experiences. I've celebrated a family Mother's Day in the classy yet buzzing dining room, I've cheers-ed tequila-infused sangria with girlfriends on the patio, and I've shared high-end potato chips and french onion dip with a group after a Red Sox game when desiring a quiet reprieve not offered by other bars in the area. You can take your chances with street parking and tempt the wrath of our meter maids, or you can take public transit. Eastern Standard is right above Kenmore Station on the Green Line T.
$$$
528 Commonwealth Ave, Boston, MA 02215
(617) 532-9100
https://easternstandardboston.com/
What are some other stellar places for an interesting drink in Boston that I didn't mention?
Correction: An earlier version of this post stated that Chef Rebecca Newell was at The Beehive; Rebecca moved over to the sister restaurant Beat Hotel in the fall of 2013.
Isara is a native Bostonian who loves writing, photography, and all things food. Naturally, this lead to her dining out blog, Alone with a Cupcake, which offers foodie insights regarding the best restaurants in Boston and her recently new location, San Francisco.