The Top 5 Places for Shrimp and Grits in Nashville
If you're a foodie headed to Nashville, you'll definitely want to try some Shrimp and Grits. Check out these great restaurants to get it.
1. Urban Grub Fish Pit and Southern Cantina. (12th Avenue South Neighborhood)
The culinary talent at the Urban Grub is exceeded only by their dedication. They drive to Kentucky to get the corn and grind their own grits. The shrimp are large gulf shrimp.
The flavors are complex; the dish is creamy perfection. In addition to their commitment to seafood, the Urban Grub chefs are masters at charcuterie, curing their own meats.
The Urban Grub may be the only restaurant in Nashville that offers shrimp and grits and pit smoked pork carnitas. Located in the 12th Avenue South neighborhood, Urban Grub features indoor and outdoor dining in stunning decor and design.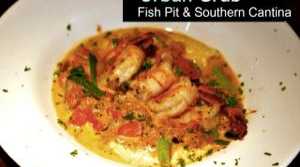 Urban Grub Fish Pit and Southern Cantina. (12th Avenue South Neighborhood)
2506 12th Avenue S. Nashville
615.679.9342
2. The Mad Platter (Germantown)
A small, locally owned restaurant open for over twenty years, has masterfully and consistently plated shrimp and grits to locals and tourists lucky enough to know about this neighborhood place.
Small, quaint, charming in a European fashion, this is where I had my first shrimp and grits and probably will always have my heart.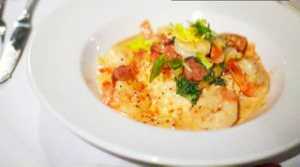 The Mad Platter (Germantown)
Just the right amount of heat, making each bite as tasty as the last, and surprisingly, a bit of crunchy celery that added a flavor that made me think that celery might be a very overlooked vegetable.
Creamy, but not overly creamy and the smoked gouda grits are perfection. The Mad Platter adjusts their menu daily to meet the season and do something unique. If you want a long, leisurely meal, you can choose the five-course option for an additional $20 in which you receive soup, salad, appetizer, entree and dessert.
1239 Sixth Avenue North Nashville 615.242.2563
3. Gray's on Main (Historic Franklin)
A chic casual triple story brandy centric restaurant repurposed from a 1930's drug store, known as Gray's. They make a tasting platter of grits cakes with collard greens and shrimp. It's as unique as their vintage cocktails and when you find yourself on Franklin's Main street, a twenty minute ride south of Nashville's downtown, you'll be enamored with the town's charm, history, shops and dining. A stop in at Gray's on Main is a must for modern day, casual Southern charm.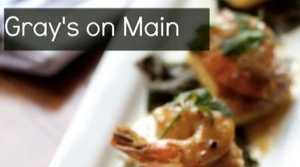 Gray's on Main (Historic Franklin)
332 Main St, Franklin 615.435.3603
4. M Restaurant and Bar at Cummins Station
Not far from the new Music City Center, M is part of a local Southern Culinary dynasty, at least here in Nashville where they started making shrimp and grits 14 years ago at their Franklin restaurant Mack & Kates. M is a favorite because it's glamorous, chic, contemporary and comfortable, with Southern hospitality and an elegant fine dining atmosphere. Save room for blackberry cobbler, and you've just had the perfect Southern experience. The shrimp and grits is a staple on the menu, served in a bowl with creamy grits.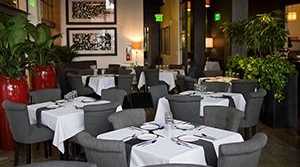 M Restaurant and Bar at Cummins Station
209 Tenth Avenue, South, Ste 223, Cummins Station, Nashville 615.678.1591
5. Saffire
Located in the historic Factory in Franklin serves outstanding Creole Style Shrimp and Grits. Aside from serving upscale comfort food like their legendary Chicken Fried Chicken with Vermont Cheddar Cheese Sauce, you will swoon over the shrimp and grits. Order the oyster appetizer first, perhaps a Saffire cocktail and then close your eyes when you take that first bite of a grits cake that is surprisingly creamy inside.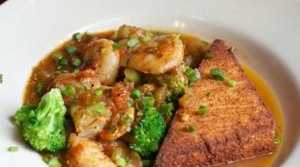 Owned by Tom Morales of the TomKats Group, who also owns the downtown very successful Southern Steak and Oyster, this is veteran cooking and one of the guys who helped elevate Nashville as a true dining destination.
230 Franklin Road, Franklin
615.599.4995
It would be so unfriendly and unfair of us if we didn't tell you about two more places, the locals will jump up and down about when it comes to shrimp and grits. For casual fine dining, it's the Midtown Cafe and for a more family friendly setting, it's Puckett's (a Southern meat and three) with several locations in Nashville and Franklin, where you might hear some music, drink lots of sweet tea and get a big fat "welcome y'all."
When is the last time you've eaten shrimp and grits or do you need to plan a trip to Nashville?