The Top 5 Burgers in Boston
The best time to be in Boston is in the summer. Summer to me means drinking on outdoor patios, strolling down by the Charles river, watching the Red Sox, and grilling. This city loves its burgers, and in August, we host the "Battle of the Burger". Bostonians vote online for their favorite burgers from all around the city and the top 20 come to compete at a live burger competition. Here are my top choices for burgers around Boston.
1. Liquid Art House
Liquid Art House is the city's newest restaurant gallery hybrid that opened in May. Chefs Rachel Klein and Ensan Wong debuted the burger on the bar menu the first weekend of June. What makes this burger so delicious? It starts off with all natural ground beef, add on comte cheese gran cru, a little tomato confit, crispy onions, cornichons and a little mustard mayo.
The milk bun is perfect - it stands up to the juicy burger and condiments until the last bite which, in my book is very important, because no one likes a soggy bun. Restaurant tips: The art exhibits rotate every few months, so the landscape is always changing. All of the art at the restaurant is for sale - you can even buy the dishware! Liquid Art House takes reservations and offers valet parking. They are open for dinner only.
$$
100 Arlington Street, Boston, MA
(617) 457-8130
2. Trade
James Beard award winner Jody Adams owns Trade with her two co-owners, restaurant veterans Sean Griffing and Eric Papachristos. Chef Andrew Hebert's burger starts with Pineland Farms ground beef, add in some pancetta, and top it off with some Vermont cheddar, lettuce, pickles, tomato and onion. The burger is served on a lightly toasted iggy's brioche bun.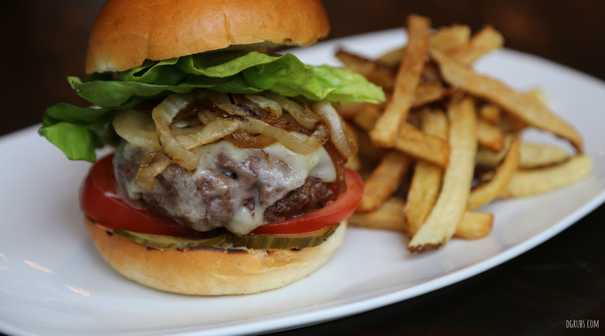 The pancetta really makes this burger flavorful. Its saltiness balances with the sweetness of the onions and the bite from the pickles. ($15) Restaurant tips: Trade is open for lunch and dinner, but the burger is only offered on the lunch menu. The restaurant accepts reservations on their website or over the phone.
$$
540 Atlantic Avenue, Boston, MA
(617) 451-1234
RELATED: How well do you know the Boston food scene? Take our quiz here.
3. jm Curley
jm Curley has a cult following - and for good reason. This year, the burger that was entered in Battle of the Burger is chef Chris Bauers' 5oz. bacon laced burger patty topped with special slaw and smoked gouda, all on a bacon smoked cheddar focaccia roll. The burger is one of the juiciest in town and the roll will blow your mind it's that good. While this burger is featured only on their specials menu, the burger on their regular menu (griddled onions, cheddar, pop's russian dressing and pickles) is also quite delicious.
($16) Restaurant tip: they are open for lunch and dinner on Monday - Friday, but for dinner only on the weekends. They do not accept reservations so go and be prepared to wait - it's worth it. The restaurant can get a bit noisy, and a bit crowded - it might not be the best place for children. Oh and by the way, there's a secret steakhouse in the back of the restaurant!
$$
21 Temple Place, Boston, MA
(617) 388-5333
(617)338-5333
4. Back Bay Social Club
Back Bay Social Club's burger is made entirely from dry aged beef (prime rib, short rib, flank and skirt). Then they take a 25lb bag of onions and cook them for 4 hours, reducing them to only 7 cups. And finally they top the burger with Vermont cheddar. It's a pretty darn good burger, juicy and albeit a little messy.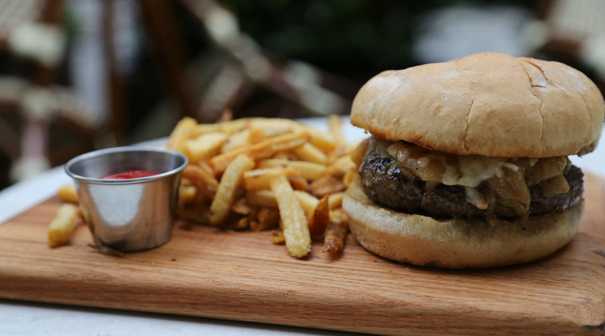 ($22) Restaurant tip: Back Bay Social Club is a casual restaurant and it does accept reservations on Open Table. If the weather is nice, try and grab a seat on their outdoor patio. They serve lunch on the weekdays, brunch on both days on the weekend and dinner 7 days a week.
$$$
867 Boylston Street, Boston, MA
(617) 247-3200
RELATED: Check out the 5 great spots to grab a drink in Boston.
5. Craigie on Main
Chef Tony Maws makes the best burger in town. It only appears on their Sunday brunch menu. The local grass fed burger is simply topped with Shelburne Farm cheddar and mace ketchup, all on a house-made bun. Make sure you add the fried egg to send your burger experience into overdrive. ($17 + $3 for the egg) Restaurant tip: Make sure to make a reservation, as the restaurant is very popular! There is limited on street parking, so if you are driving, make sure to allow yourself some extra time.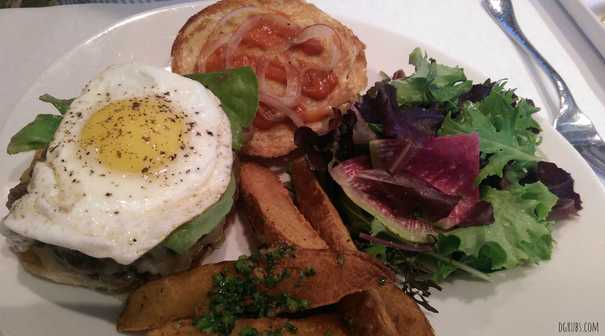 $$
853 Main Street, Cambridge, MA
(617) 497-5511