Top Five Ethnic Eats in Chicago
Chicago. The Windy City. The City of Broad Shoulders. Whatever you'd like to call it, I just call it home. It is a city known for its skyline, architecture, and especially the food. The dining culture in Chicago is unique due to a variety of factors, but I plan on highlighting the cultural diversity that contributes greatly to the food scene throughout our great metropolis. Although there are numerous communities scattered throughout Chicago, I only have room for five ethnic groups, so get ready for some great Italian, Polish, Chinese, German, and Mexican dishes.
1. Al's Beef
When most people think of Italian food, they think of pasta or pizza, but how about beef? Italian beef is a Chicago invention that originated in the Little Italy neighborhood on the Near West Side on Taylor Street. Like many great dishes, it was born out of necessity in hard times. During the Great Depression, Italian families had to make the most out of the cheap cuts of beef they were able to afford. Therefore, they first soaked it in spiced broth to soften up the tough pieces of meat, and then they cut it into razor thin pieces to be eaten on a roll. Thus the Italian beef sandwich was born.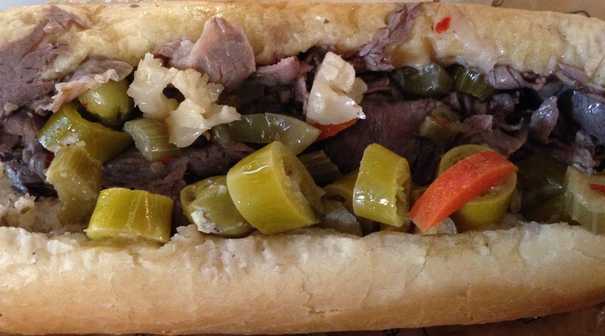 Today, there are many Italian beef sandwiches throughout Chicago and the Chicagoland area, but Al's Beef on Taylor Street is the original sandwich stand starting all the way back in 1938. It has been featured on the Today show, Man Vs. Food, the History Channel, and even Good Morning America as one of the best sandwiches and restaurants in America. Al's Beef may have a big reputation, but it is an extremely simple establishment. It's a modestly sized building with a small parking lot alongside it. Upon walking in, you'll be greeted with a simple menu that includes not only Italian beef sandwiches but also other Chicago specialties like Chicago Polish sausage, Chicago style hot dogs, and Italian sausage. I always go for the Italian beef sandwich since that is Al's specialty, and it's prepared the same way they did back in 1938.
You can order it depending on what kind of toppings you like: plain, sweet (grilled mild green peppers), hot (giardiniera or pickled vegetables), or cheese for an extra charge. Once you've picked your topping, then you have the option of how much of the seasoned beef broth you'd like on your sandwich. It ranges from dry (obviously with none) to wet (a little bit on top of the sandwich) to dipped (the authentic Chicago experience with the whole sandwich dipped in the broth). Once you have your sandwich, you can either order a soda or water to drink. Not much selection here, folks.
When it comes to actually consuming the meal, Al's Beef is interesting in the sense that there are no traditional tables to sit at. Instead, there are only chest high counters that go around the inside of the establishment. Therefore, you must master the Italian stance. What this consists of is putting your forearms on the edge of the counter and moving your feet back about two feet. This provides stability and avoids getting any of the sandwich on your clothes. If you have room, I'd recommend walking across Taylor Street to Mario's Italian Lemonade for dessert to taste another relic of Italian American pride in Chicago. So, if you want a one of a kind piece of Chicago Italian culture for a great price, check out Al's Beef.
1079 W Taylor St, Chicago, Illinois
(312)226-4017
2. Podhalanka
I stumbled upon an intriguing infographic that showed the top language, excluding English and Spanish, in all 50 states in the United States. Illinois' third biggest language and ethnic group is people of Polish descent. At one time, there were more Polish people in Chicago than the Polish capital of Warsaw. While this is no longer true, Polish cuisine and culture is extremely strong throughout the city. I am one of the millions of people of Polish descent in Chicago, so I only felt it necessary to highlight a restaurant representing this community.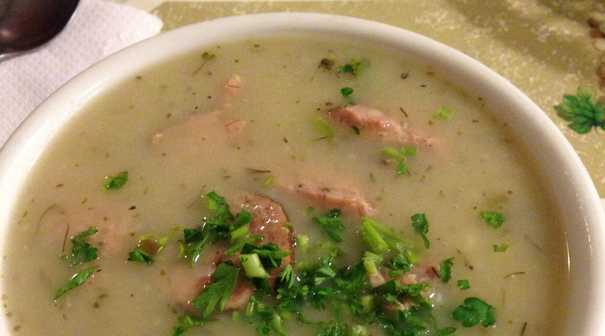 While there are tons of Polish restaurants I've tried around my grandparents' neighborhood surrounding Midway Airport, I'd like to tell you more about a hidden gem on the North Side called Podhalanka. It is located in the Polonia Triangle, considered the oldest and most prominent of Chicago's Polish enclaves. Therefore, Podhalanka is the real deal when it comes to no-frills Polish food for a great price. If you've never tried Polish food, this would be the most authentic you could get without hopping on a plane and landing in Krakow. This restaurant may have never been on the Food Channel or on Good Morning America, and frankly, Podhalanka doesn't really care. They just care about providing scrumptious food with plenty of love to their customers.
While the inside and outside of the restaurant might lack of cutting edge design, it more than makes up for it through the food that is spectacular and the overall atmosphere. Podhalanka is filled with plenty of local flavor as the walls are festooned with various artifacts of Polish culture, and the bar is often occupied by old timers taking down some soup with a beer. The wait staff is also colorful as they are gruffer than your average American waiter, but they aren't mean spirited.
Looking over the menu, they have a variety of soups, salads, and meat dishes. The wait staff might also just tell you what to get if you're overwhelmed with the selection of foreign dishes. I'd highly recommend the Kotlet Schabowy which is a breaded pork cutlet that is huge and has a perfect, golden-brown bread crumb crust around a tender piece of pork.
Another great dish would be the żurek or sour rye soup. It's not as gross as it sounds. Rather it's more like a creamy soup filled with large chunks of hearty Polish kielbasa and a slightly sour aftertaste to offer a little zing with every spoonful. I had for my entree the Sztuka Miesa W Sosie Chrzanowym or boiled beef with horseradish sauce when I visited Podhalanka, and if you like cleaning out your sinuses while chowing down on a stick-to-your-ribs type of meal, I'd highly recommend it. So if you're looking for a great Polish diner with giant plates for tiny prices, checkout Podhalanka.
1549 W Division St, Chicago, Illinois
(773)486-6655
3. Cemitas Puebla
The Mexican community in Chicago has steadily been growing in the past couple of decades, and now one can find tacos, burritos, and quesadillas in restaurantes throughout the ciudad (city, for those of you who don't habla espanol). However, there is one Mexican restaurant in a predominantly Puerto Rican neighborhood, Humboldt Park, that really took me by surprise. I'm talking about Cemitas Puebla.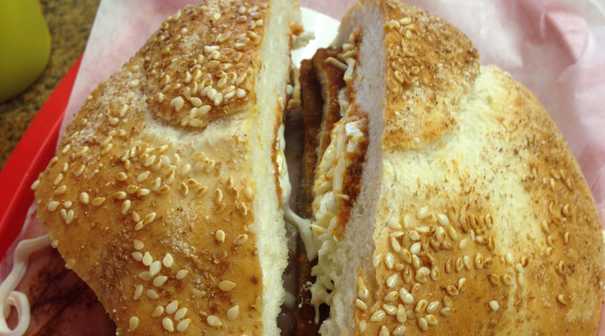 I originally saw it on Guy Fieri's Diners, Drive-Ins, and Dives, and I vowed that I had to visit it after seeing these mouthwatering sandwiches being made. They've also been featured on the local ABC News Chicago branch's " Hungry Hound " segment and PBS.
So why choose Cemita Puebla over all the other Mexican taquerias in Chicago? Because they offer a unique dish from Puebla, Mexico that I have not seen anywhere else in the country. There is only street parking for this establishment, so make sure to get there before the lunch crowd rushes in. The outside of the restaurant is simple and advertises their appearance on the Food Network, and the inside operates on a typical line up and "Can I take your order?" system. The clientele are mostly families and locals from nearby businesses.
Their menu has a range of different cemitas along with other Mexican staples like tacos, burritos, and chalupas. However, I went for the signature cemita atomica or "atomic cemita" along with a cup of agua de jamaica or "hibiscus water", a popular drink throughout Latin America that is kind of like sweet, red Kool-aid. The cemita I ordered consisted of a grilled, sesame topped bun piled high with breaded pork, roasted pork, and plain ham along with queso fresco, fresh avocado, and two complimentary bottles of mild and spicy tomatillo sauce on the side. I was living in hog heaven south of the border with this pig-tacular sandwich. It is a great place for lunch or dinner that is a bit out of the way, but it is a piece of Mexico that isn't often represented in the Chicago culinary landscape.
3619 W. North Avenue, Chicago, Illinois
4. The Berghoff
I chose the Berghoff since it is a pillar of Chicago's ethnic and culinary background. Germans have resided in Chicago since the 1800s. Although their presence isn't as large as it once was, the German community's identity still remains strong especially during Oktoberfest when everyone is a little German to celebrate the harvest and that delicious beer that Deutchland makes.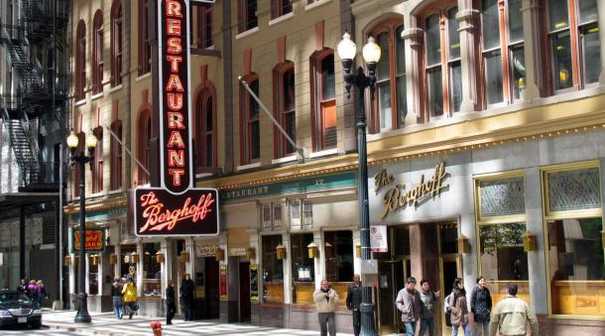 What makes the Berghoff so unique is that it is a purely Chicago institution that opened in 1898 as a men's only saloon that served free corned beef with the purchase of a stein of beer. Their beer sales were severely affected during the era of Prohibition, but when the ban was repealed in 1933, the City of Chicago issued the Berghoff liquor license number 1.
This tradition continues even today along with still being run by the Berhoff family in the form of the great-granddaughter of the Berghoff's founder, Herman Berghoff. While they maintain many of their traditions, the menu has expanded to feature more contemporary favorites, including gluten-free dishes, which are side by side with typical German meals.
The interior is amazing with the rich, dark wood carvings and stained glass windows. It is a slightly more formal place, so I'd recommend not walking in with torn jeans or tank tops. They also do group events in their cafe and even cater for parties if you want to host a large party.
When I was there, I got and highly recommend the seasonal ox joint with pumpkin gnocchi. It was large, hearty, and had fall-off the bone meat. I haven't tried their other plates, but if you're a beer lover, they have a wide range of lagers, pilsners, and seasonals to quench your thirst. I'd also suggest visiting this German restaurant for their Oktoberfest celebration that is one of the best in Chicago. For the kids, The Berghoff makes their own root beer which became popular at The Berghoff during Prohibition, and there are other non-alcoholic drinks for those who would rather not imbibe while dining. So if you're looking to raise a stein of beer with a friend or go out with a special someone while sampling some Old World fare, I'd highly recommend The Berghoff.
17 West Adams, Chicago, Illinois
(312)427-3170
http://www.theberghoff.com
5. Three Happiness
Chinese food is a cuisine of fusion and variety due the presence of numerous ethnic groups within the country along with traders from other lands over centuries bringing their own ingredients from their homelands to the Middle Kingdom. In the United States, we are used to the American Chinese classics like orange chicken, sweet and sour pork, and various fried rices. These dishes have their roots in Cantonese cuisine since most of the Chinese immigrants who emigrated to the USA during 1800s came from this southern region of China. However, there is much more to Chinese food than just fried meats covered in sweet sauce and cookies containing often cryptic fortunes.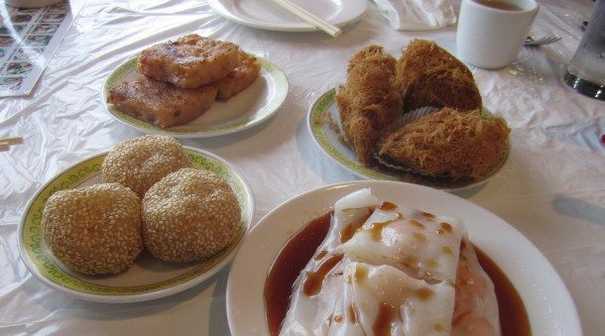 I'd like to talk more about the Chinese tradition of dim sum which can be found throughout Chicago's Chinatown. Although it is not as big as San Francisco's Chinatown, Chicago's Chinatown is the second oldest in America after Chinese laborers fled violent clashes with white settlers on the West Coast. It has plenty of great sights to enjoy like the Chinatown mural, the square, and the Chinese New Year celebrations. However, I'd like to highlight Three Happiness as a great restaurant for both traditional American Chinese fare and delicious dim sum.
There are two Three Happineses: the original next to the Chinatown gate or the new one next to the Chicago fire department. I'll be talking about the new Three Happiness. I've been going there since I was little, and they have plenty of space for big parties or just a table for two. It gets pretty loud inside during peak hours, so it wouldn't be the best spot for a romantic, candlelit dinner.
When it comes to the typical American Chinese dishes, I'd recommend their shrimp fried rice since it isn't very greasy and the shrimp are plentiful and large. Their sweet and sour pork is great too because of the slightly spicy kick to the thick sauce that coats every piece.
I also would suggest trying dim sum which is like Chinese tapas where you have to order a few small dishes and then share them with everyone. How it works is that you're given a list with pictures of the small plates, and you check off what you want. The server then takes it, and your plates come out to you in waves. Out of all the dim sum plates I've tried I'd recommend the sesame buns which are small pieces of fried, rice dough coated in sesame seeds. Inside there is a slight dab of red bean paste that isn't overwhelming like how other places do these sesame balls. I'd also get the pork bao which are fluffy, white buns that are steamed and filled with barbecue pork. Watch out for these because they are addictive!
The last dim sum plate I'd recommend are the chicken feet just because they are not for the faint of heart and quite unique. While there isn't a lot of meat on these poultry tootsies, it is entertaining to eat them while trying to strip the meat off the cartilage while savoring the sweet, orange marinade. Brush up on those chopstick skills! (seriously though, they have forks). So, if you want to taste a bit of authentic Chinese culture and take a walk on the wild side beyond Panda Express, check out Three Happiness and Chicago's Chinatown.
2130 S. Wentworth Ave, Chicago, Illinois
(312)791-1228