5 Questions with Cherimarie Poulos of Carlsbad Food Tours
Cherimarie Poulos is the owner of the amazing Carlsbad Food Tours. We asked her a few questions to learn more about her tours and what to expect if you have the chance to go on one.
1. What do Foodies need to know about Carlsbad?
Carlsbad's mild weather and stunning beaches make it one of the perfect southern California destinations all year round. But don't mistake Carlsbad for a sleepy surfer village. Whether your tastes lie in fine arts, live concerts, classic cars or craft beers or fine eateries, Carlsbad is never short on amazing experiences. Carlsbad has some exceptional restaurants with amazingly talented Chefs, here are a few just to give you a taste of what Carlsbad has to offer.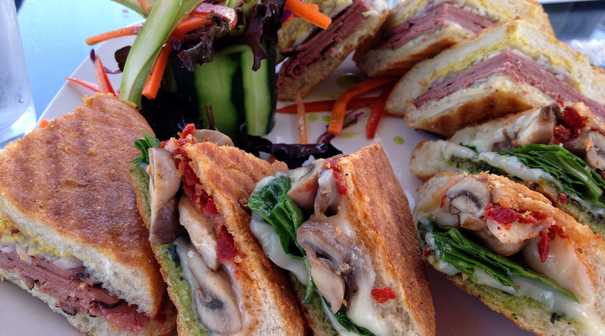 2014-04-05 14.36.19
Chef Robert Ruiz of the Land & Water Company continues to redefine what real sushi is. Ruiz's strong desire for knowledge and inventiveness has given him a distinct household reputation as a destination chef.
He has had extensive training under Hawaii's finest chefs and he is now known as one of San Diego's best non-traditional sushi chefs. Chef Ruiz is also very committed to saving and preserving our Oceans through his sustainability movement is changing how fish and sushi will be served worldwide.
Chef Gregory Frey Jr. is the dynamic chef at the La Costa Blue Fire Grill, you're sure to meet dynamic chef Gregory Frey Jr., who circulates through the dining room greeting patrons and sharing his culinary tips. It's impossible to miss Chef Frey's passion for the freshest ingredients and his attention to detail infuses every bite of your meal here.
Along with fresh coastal seafood selections, the menu includes fine meats and seasonal ingredients from local farmers and purveyors. The menu is paired with an extensive wine list and patrons enjoy indoor or outdoor dining, along with a regular schedule of live music performances and a lively lounge scene.
Chef David Gallardo's restaurant Paon offers California cuisine with French influences. Paon's menu features seasonal, locally grown organic produce for the palates of fine food lovers from all over the world. Spotlighting organic prime meats, game and fish prepared with traditional French sophistication.
2. What can people expect on a food tour?
Carlsbad Food Tours offers unique and specially-selected food tastings: Our guided historical walking food tour visits 7 food tasting locations within the quaint village of Carlsbad-by-the-Sea. The food samplings on our North County San Diego tour are sure to satisfy your appetite and put a smile on your face.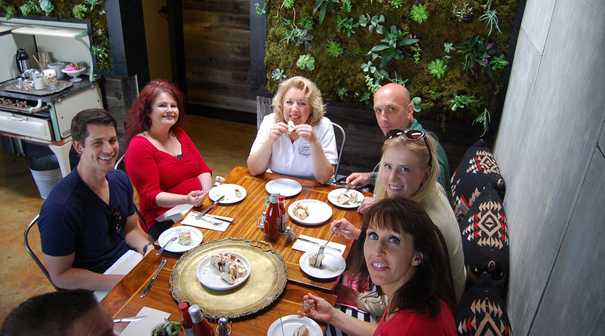 cafe-topes-carlsbad-food-restaurant
Each tasting is served from locally-owned and operated specialty food shops and ethnic eateries. Stops include one of Carlsbad's most romantic restaurant, tasty desserts from local eateries that have been made from recipes passed on from generation to generation. Award-winning California wines. Our goal is to tease your taste buds and entice your mind with the sights, flavors, and way of life in Carlsbad.
RELATED: Everything you need to know about the San Diego Wine and Food Festival
3. Where should wine lovers go on their first trip to Carlsbad?
Carlsbad has several award winning wineries including Witch Creek Winery, which is also on our food tour. Other options are Relm for a fun get together with friends and wine tasting or Paon, a French influenced wine tasting room.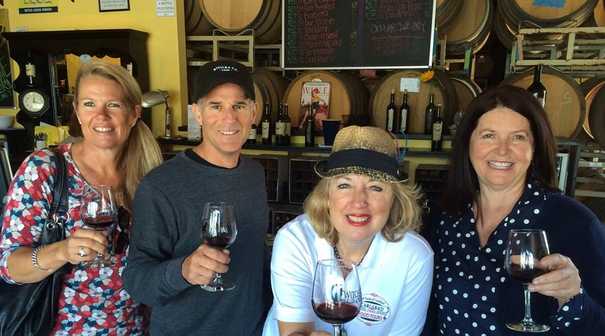 1907962_10202540294681983_9119380729488104308_n
4. If we want a meal with a great view, is there a place you recommend?
Vigilucci's Seafood and Steakhouse has a fabulous view of the ocean, sunset is the best time for this restaurant.
Chandler's at the Hilton also has a beautiful ocean view from their dining room.
5. Give us some dining advice after a long day at Legoland with the kids
I would suggest Pizza Port it is a fun place for the kids but it also has a great brewery for the adults to relax and kick back after a long day in LegoLand.