Podcast Episode 96: The Business of Food Tours and the Chicago Food Scene
In this episode of the Find Dining podcast, we talk to Shane Kost, founder of Food Tour Pros and Chicago Food Planet Tours. We discuss Chicago-style hot dogs, deep dish pizza, and architecture.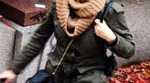 Laura Siciliano Rosen
Meet Shane at the 2014 Food and Travel Expo

There are approximately 400-500 food tours operating in the US

Food tours come in many flavors and many sizes

Do your homework and read reviews

Try the original Deep Dish Pizza at Pizzeria Uno or keep it local with Lou Malnati's

While in Chicago, try an Italian beef sandwich and never put ketchup on a Chicago style hot dog

Neighborhoods to visit: Gold Coast and Old Town, Lincoln Park, Bucktown and Wicker Park, Chinatown

The best time to visit is May-October

Taste of Chicago is the largest outdoor food festival in the country

Keep your eye on Chicago chefs Stephanie Izard and Mindy Segal
1. Food for Thought
Q: Where was the world's first skyscraper built and what was the building?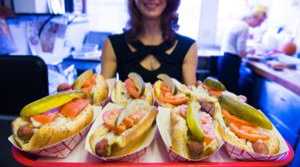 Join us for a food tour
2. Out of the Frying Pan Picks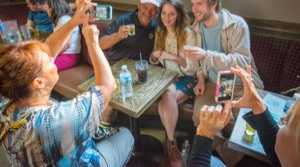 Food Tour Friends
Favorite brewery: Revolution Brewing, Lagunitas or Goose Island

Favorite place for dessert: Hot Chocolate in Bucktown

Favorite places for brunch: The Bongo Room, Bakin' & Eggs, Toast

Favorite food truck: Antique Taco and Big Star

Prediction for next five years: every major city and most secondary cities will have food tours