5 Questions with Diane Scalia of Melting Pot Food Tours in Los Angeles
Diane Scalia is a self-proclaimed Chefpreneur, World Football Passionista, and Gourmet Storyteller, with credits that include Founding Partner of Melting Pot Tours, the first and premiere walking-tasting food tours company in Los Angeles. She also works as a Mediterranean Tapas Chef in an open kitchen, at BarComida in Redondo Beach, California, where she is known to serve menu items inspired by her soccer passion.
1. What is Melting Pot Tours? What tours do you offer?
Melting Pot Food Tours, the original company of its kind in Los Angeles, offers walking-tasting tours in select neighborhoods. We offer locals and tourists alike, the unique opportunity to explore our great city through its fantastically diverse and incredibly delicious food.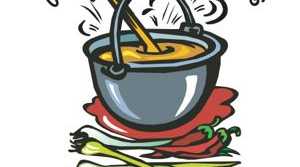 Melting Pot Food Tours
Our first tour, running for 6 years now, is the Original Farmers Market Food and History Tour, where we dine around one of LA's most revered and historic landmarks of the last 80 years.

Our Old Pasadena Tasting Tour enjoys fabulous cuisine in the original business district of LA's first suburb, which is also home to the world-renowned Rose Bowl and Tournament of Roses Parade.

Our East LA Latin Flavors Tour uses our Metro Gold Line trains to travel between tasting stops, where we feature the most celebrated Mexican and Central American foods in our own Latin quarter.

We also have a fantastic tour of Thai Town, hosted by celebrity Chef Jet Tila, whose father founded the neighborhood. Los Angeles is officially honored by Thailand as their "77th province".
2. How did Melting Pot Tours come to be?
My sister Lisa birthed the idea in spring 2007, while I was enjoying an extended holiday in Europe. The first day I was home she told me all about it and invited me to sign up as her partner. Although I'd had very little sleep at that hour, I said yes, and the rest is history!
Lisa is brilliant and I always say Melting Pot Tours is so successful because "We have Lisa." She is the true brains behind the operation, and I am the heart, out in front. Our skills are very complimentary, and we genuinely like and love each other, and working together.
3. What cuisines is Los Angeles known for?
We are blessed that so many immigrants came here, just as our own ancestors did from Italy, and brought their food with them! It is entirely possible in some parts of LA, to walk less than one mile, and find 20 or so different ethnic eateries spanning that distance.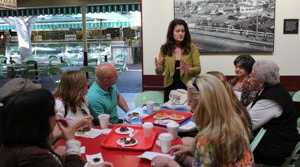 A Melting Pot Food Tour
So we're quite famous for our multi-ethnic cuisine - and authentic cuisine, I hasten to add - that not only landed here from six continents (I haven't found any Antarctic cuisine, yet), it is prepared and served by the multi-generations of master cooks who proudly brought it from their homelands, to share with Los Angeles.
We also have a strong, exciting culture of farm-to-table cuisine, made popular by all-star chefs like Nancy Silverton, Suzanne Goin, Ludo Lefebvre, and Ari Taymor. Some of our highest-profile restaurants have opened "little sister" and outpost-style restaurants in the last few years, making "5-star"-style dining affordable for everyone.
4. What would surprise people most about the food scene in Los Angeles?
Probably how well-priced its amazing food is! And how spectacular the grocery shopping is! These are hallmarks that we are so proud to share on our tours, and we've been privileged to be consulted as "experts" by international publications for this type of information.
Part of our mission is to play a positive role in LA earning its rightful place on the map, as a world-class culinary destination. We take that role very seriously, and joyfully, on each and every tour.
5. You are also a chef. How does leading food tours compare to working in the kitchen?
At the restaurant, called BarComida at Chez Melange, I only do the main prep of my Mediterranean tapas and small plates in the back kitchen. For the entire evening, four nights a week, I cook at the Bar in a very small "open" kitchen. Understandably, my experience as a chef out in front, is actually very similar to hosting a tour because I have to be "on" at all times!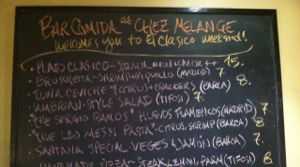 Clasico Blackboard
This feels like the blessing I'm cursed with on occasion, like those under-slept times I mentioned earlier. But in truth, I really do love getting to know who I'm cooking for, the same way I get to know my tour guests. I'm able to share how passionate I am about my recipes, menus, ingredients, and express a huge part of who I am through my cooking. I adore when my tour guests are able to come to the restaurant, and when my restaurant customers are able to enjoy one or more of our tours.
Both "jobs" make me feel like I'm doing something(s) very important in life. It is my deepest desire to have my work be all about bringing people to the table, because I believe that peace begins there. Earning a living while perhaps making such a delicious contribution toward peace in our world, makes me love where I'm at in life, that there's no one else I'd rather be. I love walking in my own shoes.