5 Questions with Trish Procetto of TOURific Escapes in Los Angeles
Trish Procetto and her husband Matt launched TOURific Escapes in August 2010 as a way to creatively get back in the workforce after both losing their jobs in the recession. Trish now combines her love for people, food and travel as a Professional Tour Guide after enjoying careers in education, consumer research and the cruise industry.
1. If we're a foodie coming to Los Angeles for the first time, what neighborhoods should we check out?
My first suggestion is to rent a car as you'll need it to get from one part of town to another. There are so many restaurants opening all over this city, but if I had to narrow it down I would say Downtown LA (DTLA), Culver City and a little stretch of Sawtelle Boulevard in West Los Angeles that's known as Little Osaka. And of course Hollywood, but for that experience I invite you to join our Hollywood Sites & Bites Tour !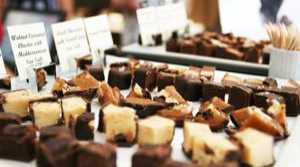 Everybody Loves Chocolate
2. Who are some of the big name chefs we should know?
Susan Feniger is my favorite female chef. She's the name behind Border Grill, STREET and her newly opened Mud Hen Tavern. Roy Choi, the creator of the gourmet Korean taco truck, Kogi, who now has several popular restaurants from DTLA to Culver City and of course the Kogi food truck still going strong. Ricardo Zarate, who brings Peru to Los Angeles by way of Mo-Chica , Picca and Paiche.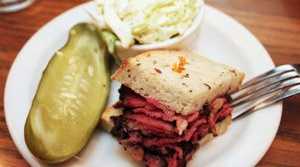 Sample a Sandwich
3. Where should we go to find great food trucks? Any recommendations?
Twitter is probably the best place to track the location of our constantly moving food trucks. However, there are several organized events such as First Fridays on Abbot Kinney in Venice and the Santa Monica Food Truck Lot on Main Street on Tuesday evenings.
Many special events in LA are centered around food trucks, so it's not too hard to find them. A few that I'm partial to are the Buttermilk Truck ( red velvet pancakes! ), The Grilled Cheese Truck and Coolhaus for some of the best ice cream and cookie sandwich combinations!
4. Tell us about some of your food tours
Our original tour that launched our company is Hollywood Sites & Bites, which is really three tours in one combining a walking tour, driving tour and food tasting! This 4-hour tour covers all the historic and popular landmarks that visitors to LA want to see plus takes them to restaurants unique to the Hollywood neighborhoods to sample sweet and savory food items and some fun beverages!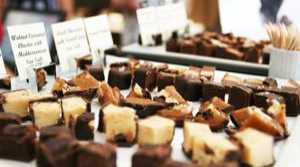 Everybody Loves Chocolate
I created the Chocolate Indulgence as a themed tour for Valentine's Day because of my love for chocolate and sweets! This has become popular for chocolate fans of all ages and is offered around the chocolate holidays ( Halloween, Christmas, Valentine's Day and Mother's Day ) and of course is available for private parties too. Now we have two different chocolate tours, one in Hollywood and the newest one that highlights 5 female entrepreneurs on the Westside.
5. Are there any great food events we should plan our trip around?
In September, there's The Taste Food & Wine Festival sponsored by the LA Times at Paramount Pictures Studios. Each day has a different theme and different speakers/demos so you get to have a fun foodie experience on a famous movie studio lot.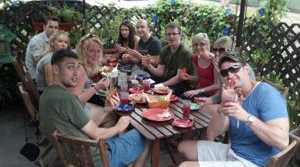 The tour's all here!
And the LA Bacon Fest held in February at the Petersen Automotive Museum, sponsored by Drink Eat Play is a bacon-filled afternoon with bacon infused in every imaginable sweet and savory, and a few drinks too!
Keep your eye out for any food or drink event sponsored by Los Angeles Magazine. The last event we attended was held in January in the very cool Helms Bakery space in Culver City and was a celebration of their selected Best Restaurants of 2013. All that talent and deliciousness under one roof was awesome!